Dr Virginia Sherborne
Division of Nursing and Midwifery, Health Sciences School
Research Associate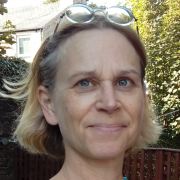 h.v.sherborne@sheffield.ac.uk
Barber House Annexe
Full contact details
Dr Virginia Sherborne
Division of Nursing and Midwifery, Health Sciences School
Barber House Annexe
3 Clarkehouse Road
Sheffield
S10 2HQ

Profile

Alongside a career as a secondary school teacher, I trained as a counsellor specialising in trauma and bereavement. Then in 2018, I was awarded a PhD scholarship at the University of Sheffield funded by the charity Mesothelioma UK.

I completed my PhD in the Division of Nursing & Midwifery in 2022 under the supervision of Prof. Angela Tod, Dr Bethany Taylor and Prof. Jane Seymour. My thesis was an interpretative phenomenological analysis of the psychological effects of mesothelioma in the UK military context from the carer's perspective.

In March 2022 I joined the Mesothelioma UK Research Centre at the University of Sheffield as an Associate Researcher. I am currently involved in the MINNOW study, investigating the Mental health Implications of a mesothelioma diagnosis and developing resources to Optimise Wellbeing.

I am also working on the Pathways in Peritoneal Mesothelioma project.
Research interests

I am experienced in qualitative research, with expertise in using interpretative phenomenological analysis methodology.

My particular interest is in the psychological aspects of the asbestos-related disease mesothelioma. I am also interested generally in psychological trauma and its treatment, and in the health/support needs of military veterans and their families.
Publications

Journal articles

Conference proceedings papers