Advanced Certificate Language and Communication Impairment in Children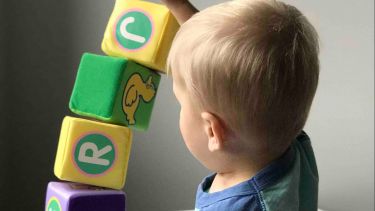 Undergraduate Level Study
Study mode: Part-time by distance learning
Duration: 1 year (September to September)
This is a 60 credit course offered at undergraduate intermediate level (I level) (RQF level 5).
---
Who is the course for?
Delivered online, this course is for people who are working in a support role with children with special educational needs in the UK and worldwide, and who do not have a prior academic background, including:
Teaching Assistants
Learning Support Assistants
Speech and Language Therapy Assistants
Nursery Nurses
Other people working with children with speech, language and communication impairments in educational settings.
The course gives you the opportunity to develop knowledge of speech, language and communication in typically developing children, and in children with a range of special educational needs. The impact of language and communication difficulties on children's learning is explored, and implications for educational practice considered.
This course may be suitable for you if you are interested in becoming a Higher Level Teaching Assistant, going on to future training as a teacher or speech and language therapist, or just wanting to know more about how you can support the children that you work with.
Although there is open access to this course, with no requirements of formal academic qualifications, applicants should be aware that it is delivered at level 5 of the Regulated Qualifications Framework. As such, the course involves reading academic textbooks and journal articles and the assignments will require the development of your academic writing skills. Support for the development of these skills is provided by the University tutors.

Potential applicants who have a degree-level qualification would be eligible to apply for the Post-Graduate Certificate in Language and Communication Impairment in Children.
---
Course aims and outline
The course aims to:
Provide a professional development course at foundation level for people working in the field of language and communication impairment in children, who may not have a professional qualification or a background in higher education or the traditional entry requirements for postgraduate study.
Develop knowledge and understanding of typical development in the area of speech, language and communication and of learning.
Develop knowledge and understanding of speech, language and communication needs, to consider the consequences for children's learning, and to reflect on the implications for practice.
Facilitate understanding of issues relating to collaborative practice among those working with children with language and communication problems.
Create an access route for applicants with non-standard entry qualifications to progress to Masters-level study.
You will take four 15 credit modules:
Speech, Language and Communication Development
Cognitive Development and Learning
Speech, Language and Communication Needs
Working with Children with Speech Language and Communication Needs
More information on the course and its four modules can be found here.
The study timetable for the year can be found here.
Individual Modules can also be studied: Explore CPD opportunities
The content of our courses is reviewed annually to make sure it's up-to-date and relevant. Individual modules are occasionally updated or withdrawn. This is in response to discoveries through our world-leading research; funding changes; professional accreditation requirements; student or employer feedback; outcomes of reviews; and variations in staff or student numbers. In the event of any change, we'll consult and inform students in good time and take reasonable steps to minimise disruption.
---
How will I learn?
Your course material will be delivered online. Most essential reading material will be available electronically, and a small number of key textbooks are also used. There will be a range of online activities, such as discussion forums, to support you in developing your ideas. You will have access to the University of Sheffield library e-resources and this includes many journals available in electronic form, and some books. Associate membership with more local University libraries can be arranged. You will receive ongoing support online, via email and phone from University of Sheffield tutors.
The online course material is supplemented by attendance at a total of four study days during the course of the year. These will be held in Sheffield, usually in September, January/February, and April/May.
Attendance at study days is normally compulsory. However, students who are based outside the UK, or who have special circumstances, may be exempted.
Your work for the course may take an average of 12 hours a week over the year. It is our experience that students who are taking another course in addition to LACIC find themselves over-committed.
---
How will I be assessed?
All modules are assessed by written assignments. Support will be given to students who do not have much previous experience of academic writing.
---
What are the entry requirements?
Applicants will normally:
Have two years of relevant work experience with children with special educational needs.
Show a commitment to professional development through attendance at relevant courses and previous work-based study.
It is essential that all applicants have easy access to a personal computer and to the internet via broadband and are computer literate.
Applicants should also be prepared to engage with university-level work.
Information on English Language requirements for study at the University of Sheffield, for those for whom English is not their first or home language.
---
How much will it cost?
Fee for 2020-2021 is £2833.
Additional costs to consider are: travel to Sheffield for study days 3 times a year, overnight accommodation if you live further afield, text books, and printing out of online material.
Many students are successful in obtaining full or part funding from their employer.
---
Funding for NHS Employees in Yorkshire and Humber and in East Midlands
Funding may be available for you to do our course, or one or more single modules, through our Learning Beyond Registration (LBR) arrangements. A set amount of LBR funding is available annually so, to maximise your chances of securing some, we recommend that you apply as far in advance of the start of the course as possible. Ask your manager about this and contact us directly at hcs-admissions@sheffield.ac.uk.
---
How do I Apply?
The course commences in mid-September of each year. Applications will usually be considered up until 31st July in each year.
Applications received after 31st July may be considered if there are places still available. However, it is important to apply in good time for the course, as full access to the University computer network and online learning resources needs to be arranged for the start of the academic year.

Please download an application form and return it to us. You will also need to ask your referees to complete the reference form.
Please note that this course will only run if minimum intake levels are achieved by the deadline each year.
For applicants with disabilities, you can find a range of useful information at the University of Sheffield's Disability & Dyslexia Support Service. 
For further information, The Health and Care Professions Council produce a publication called Health, disability and becoming a health care professional.
---
Teaching and learning changes for 2020-21
Due to the coronavirus pandemic we have made some changes to teaching and learning for this course in the 2020-21 academic year.
---
For more information contact
If you'd like to know more about any aspect of our courses, contact us:
HCS Admissions: hcs-admissions@sheffield.ac.uk
T: +44 114 222 2405
A world-class university – a unique student experience
Sheffield is a research university with a global reputation for excellence. We're a member of the Russell Group: one of the 24 leading UK universities for research and teaching.