Orthoptics degree selection process
Once you've applied through UCAS to study BMedSci Orthoptics, here's what happens next.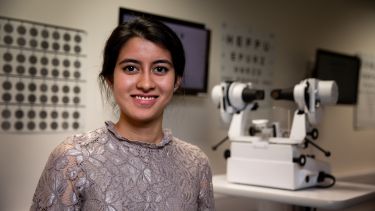 Selection process
Selection of applicants is based on content of UCAS forms with particular focus on academic qualifications and personal statements. We strongly advise applicants to contact their local orthoptic department and request the opportunity to observe the work of an orthoptist. Voluntary work, experience with children, the elderly or people with disabilities is also considered a favourable asset.
All applicants to Orthoptics are required to demonstrate an awareness of and commitment to the core values of the NHS which aspires to provide the highest standards of excellence, professionalism and public accountability, and gives priority to the interests of patients. We base our selection decisions on these values and how well you are able to express them on your application and performance at our selection day. We would invite you to consider your application and suitability to Orthoptics by reviewing the NHS Constitution (2013).
Suitable applicants will be invited to attend a compulsory departmental open day which will include three mini interviews to explore your suitability to study the orthoptic degree in relation to the NHS values. At the day of the interview you will get an opportunity to listen to a presentation about the orthoptic degree, meet current students and staff and go on a tour of our facilities. The University also offer a number of exhibitions and tours where you receive more detail about accommodation, university campus and facilities, the students' union and university life.  There will be opportunities to ask staff and students any questions you may have. 
EU or International applicants living outside of the UK, may wish to travel to attend the departmental open day and mini-interviews at the University of Sheffield. If it is not possible for you to attend, you will be able to complete the compulsory selection process via Skype or telephone interview. This one interview will be conducted by two members of staff and cover the same content included in the three mini-interviews at the departmental open day. There will also be an opportunity for you to ask any questions you may have.
We are also pleased to announce that we now consider applications from the Northern Consortium United Kingdom (UCUK) and the University Sheffield International College (USIC) via the Science and Engineering pathway.  Further details are available via the links.
Identity Check
All student orthoptists are required to undergo Disclosure and Barring Service (DBS) enhanced disclosure, previously known as Criminal Records Bureau (CRB), in line with other health related courses in the United Kingdom. Admission to the course offered by the University of Sheffield, Faculty of Medicine, Dentistry and Health is subject to the Rehabilitation of Offenders Act (1974) Section 4(2) (Exemption) Order 1975 and the Department of Health Circular HC (88)9 guidelines regarding child protection and police checks. This means that you must inform us of any criminal convictions (including spent sentences), cautions (including verbal) and bind-over orders you may have. All offers given to applicants will be subject to a satisfactory Enhanced DBS Disclosure.
If you have never been a resident of the UK you will not be in a position to proceed with a DBS check. If you are made an offer of a place you will be sent further details about applying for the equivalent of a DBS check.

If you have lived overseas for a period of 3 months or more since the age of 16 and are now resident in the UK you will be required to provide both a DBS check and an overseas equivalent.
Applications for deferred entry
If you are made an offer of a place on the Orthoptics course and choose to firmly accept it, you will need to undergo the DBS check during your gap year. We will write to you at a later date with details of how to go about this.
Entry agreement
All students studying for a BMedSci(Hons) Degree in Orthoptic will gain clinical experience throughout the 3 years of training and be in contact with patients and many aspects of the hospital environment. Orthoptic students are required to agree and sign the entry agreement form prior to the commencement of the Orthoptic degree programme.