MA in Early Modern History
View module information for this course.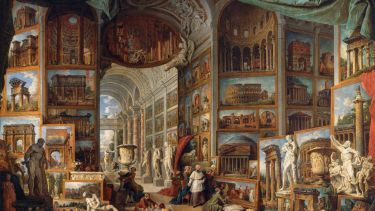 The taught component of the MA is designed to develop your understanding of key historiographical and methodological approaches. You will take a core module, which examines the essential workings of your chosen area of expertise and develops your skills in using relevant sources.
Option modules allow you to undertake the technical training best suited to your research needs and study major historical themes in closer detail.
The dissertation provides you with the opportunity to further develop the skills and methods that you learn during your taught modules and to apply this historical knowledge to your independent investigation.
Tailor your degree
Our MA degrees are carefully designed to allow you to build a programme that suits your needs: supporting your progression to PhD research, as well as allowing you to aid your career development and expand your knowledge in your chosen area of history.
Choose full-time or part-time study. All of our degrees for you to study full-time over one year, or part-time over two years part-time. 
---
You will take three core modules
Early Modernities

30 credits, semester 1

Will focus on critical analysis of the many ways in which assumptions about 'pre-modern' and 'modern' cultures and societies have shaped historians' approaches to the early modern period. Seminars will focus on ideas of individuality and self-hood in the early modern period. You will also be introduced to technical and methodological problems associated with the effective use and interpretation of pre-modern sources.

Dissertation

60 credits, semesters 1 and 2

Provides you with the opportunity to further develop the skills and methods that you learn during your taught modules and to apply this historical knowledge to your investigation. You will work under the supervision of an expert member of staff to complete an original 15,000 word piece of independent research.

Research Presentation

15 credits, semester 2

Designed to equip you with the skills and experience that you need to present and communicate a defined historical research project to an academic audience. Assessment is by a presentation connected to your dissertation topic.
You will choose 75 credits of option modules. You will normally take 30 credits of options in semester one and 45 credits in semester two, including one 30 credit option. Part-time students will normally take 15 credits of option in semester one of the first year, leaving the remaining 15 credits until year two. 
This 75 credit selection can include up to 30 credits from the guided list of non-history modules (see guided modules tab). 
The modules listed below are those that we are planning to offer in 2021-22. Please note that module availability may still change at this stage i.e. due to staff changes or student uptake at registration
Before Facebook: Social Networks in History

15 credits, semester 2

In a world of Facebook, Twitter and Instagram, social networks seem a distinctly modern phenomenon, but are they only a product of our digital age? This module explores historians' efforts to reconstruct social networks in diverse contexts, from the ancient to the modern world. Drawing upon techniques first developed by social scientists, and increasingly digital methods too, they have found networks of trade and business; religious groups and political exiles; family, friends and much more. This innovative work is revealing how far lives and communities cut across boundaries of time and space - with important consequences for historical debates and issues.

Biopolitics: Medicine, Meaning and Power

30 credits, semester 2

Medicine is centrally concerned with human identity. Medical ideas, medical practices and medical professionals are fundamental to how humans in the twenty-first century think of themselves. Public health informs ideas of responsible citizenship, workplace initiatives on mental health promote mindfulness, assessments of 'risk' in psychiatry are highly racially charged. Modern sexuality is highly medical, and our very notions of what humans are has been shaped by disciplines as diverse as neuroscience and medical anthropology. Figures from history are routinely diagnosed with modern diseases, for a variety of ends, and health activism and consumerism has been part of political calculations for decades.  This course will familiarize you with some of the major ways humans have been managed and modified in modern medicine.

Burying the White Gods: Indigenous People in the Early Modern Colonial World

15 credits, semester 2

Since the rise of postcolonialism, scholars have fought to reconstruct the complexity and significance of indigenous communities and to remove them from an imperial framework which casts them as passive victims of historical events. In the early American world, this greater sensitivity to indigenous agendas and actions has led increasingly to meetings between indigenous Americans and Europeans being explained in terms of encounter, negotiation and accommodation, rather than simple conquest. Focusing on Central and South America, - but also drawing on other imperial contexts, this module seeks to illuminate the places and perspectives of indigenous people in colonial history and historiography.

Food and Drink

30 credits, semester 2

Food and drink are not just fundamental to human survival; they are interwoven into every aspect of life, from economic exchange, politics and governance, to culture, identities and habits. Moreover – since the ways in which food and drink are produced, distributed and consumed have varied with time, place, culture and climate – they offer important insights into historical societies and cultures around the globe and across time. This module engages with the big themes in food and drink history and explores them through case studies taken from different geographical, chronological and cultural contexts. We will study issues such as famine and food management; trade and the global diffusion of foodstuffs; diet, health and medicine; national, regional and social identities; industrialisation, technologies and commercialisation; recipes, preparation and cuisine; consumption practices and manners; and literary representations and material cultures. Through this, the module will introduce you to the possibilities of historical research into diverse foodstuffs – from caffeinated drinks and alcohols to pulses and grains – for understanding the historical societies that they sustained

Language and Society in Early Modern England

30 credits, semester 2

This module investigates what words meant in early modern England – not merely to social and intellectual elites (though they are certainly part of the mix) but also ordinary men and women. In doing so, it encourages you to reflect on the implications of these meanings – and their changes and continuities over time – for social attitudes, relationships, and practices. Working at the intersection of social, literary and intellectual history, you'll explore diverse primary material - including diaries, court records, and printed texts - as you delve into different techniques for analysing language and meaning.

Microhistory and the History of Everyday Life

15 credits, semester 1

The choice of scale is of fundamental importance in determining the kind of history that is produced. It influences the choice of source materials, the way these are handled, and the sorts of conclusions that can be reached. In this module we critically examine the theory, method and practice of two related historiographical approaches: microhistory and the history of everyday life, both of which emphasized the intensive study of the small scale and were influenced by anthropology. Students will develop an appreciation of the theoretical issues and practical experience in applying this to their own research.

Oral History

15 credits, semester 1

Oral testimony has established itself as a vital source for historians of the modern world, but its value is still widely contested. This module introduces students to the practice of oral history and the debates surrounding it. We will examine the different ways in which historians have used oral testimony and how this evidence has shaped our understanding of the past; explore the relationships between memory, narrative and meaning; and introduce students to the ethics and practicalities of interviewing. The module will equip you with the tools to conduct your interviews, and to use oral history testimony critically and sensitively.

Palaeography

15 credits, semester 1

In this module students are introduced to the different forms of law hand and secretary hand current in the early modern period, noting transitional styles and the emergence of italic script. A range of transcription conventions are also explained. For each session, students will be required to prepare transcriptions of a representative selection of manuscript materials.

Presenting the Past: Making History Public

15 credits, semester 2

The primary focus of this module is the interpretation and creation of 'public history'. The module will enable students to reflect on the issues involved in disseminating history outside academia and develop communication and presentation skills for audiences outside higher education. Students will be required to (1) analyse examples of public history and (2) create an example of public history. The module may be of particular interest to students planning to pursue careers in heritage, museums or education. Seminars will include discussion of: issues in public history; displaying objects and presenting interiors; the role of public history in post-conflict societies; writing for the 'public'; sound and vision; digital history.

Public History and Policy: Theory and Practice

30 credits, semester 2

This module explores ways that the best findings of specialist academic history can be used to engage a wide audience to influence its understanding of and views on policy. Seminars and readings employ case studies (from ancient to modern history and around the globe) and engagements with practitioners in order to glean insights about how and why historians have (more or less) successfully engaged with policy and policy makers. The assessment invites students to write a policy paper (or similar piece aimed at non-specialists) on a topic selected in collaboration with the module leader.

Research Skills for Historians

15 credits, semester 1

This module is designed to equip students with the research skills necessary for independent investigation and further study in History. Students will discuss the changing nature of the historical discipline as it has adapted to interdisciplinary impulses, and the skills needed for a more refined analysis of both textual and visual primary sources. In Masterclasses taught by specialists, students will familiarise themselves with the possibilities associated with different types of primary sources (e.g. legal documents, press, oral history). Additional classes will help them work more effectively with library collections and develop subject-specific as well as generic IT skills (locating information in databases, using web-based resources, advanced bibliographical management).

Revolutionary England, 1640-1660: Politics, Culture and Society

15 credits, semester 1

This unit will introduce students to the study of English politics and society between 1640 and 1660. Students will use primary and secondary sources in seminars to analyse both contemporary writings and historiographical debates on the causes and significance of the civil war, defined broadly to include not just formal political debate but also popular movements (including witch hunts, clubman associations and forms of economic and social protest) and other forms of intellectual creativity (astrology and natural science for example). The aim is to understand both the conflict, and the social and cultural values through which it was experienced and resolutions were sought. 

The Animal Turn: human and non-human animals in history

15 credits, semester 1

This module engages with the new 'Animal turn' in the Humanities. No longer does the mention of non-human history lead to amusement and surprise, as was the case until fairly recently, and the field has attracted huge attention from a range of disciplines. This module acknowledges this change, and engages with some of the most influential works on related issues. At the same time, it also engages with a wide range of controversies and debates, starting from the issue of whether it is right to use terms such as 'animals' and 'non-humans,' as they reduce the wide diversity of life-forms into one or more anthropocentric categories.

In examining these debates, the module will deal with questions such as the following: Is it right to talk about the agency of non-humans in the same way as we talk of human agency? In what ways has the relationship between humans and non-humans changed over time? How have humans represented non-humans, and is it possible to re-read these representations in non-anthropocentric ways? What are the ways in which non-humans have been exhibited and studied since early-modern times? What will a history, which is inclusive of non-humans, look like? In discussing these questions, we will go through a range of writings from colonial and non-colonial contexts.

The Dawn of Modernity in the Late Middle Ages

15 credits, semester 2

This module seeks to reassess the picture of the late Middle Ages as an age of crisis and decay to be replaced by the Renaissance and modernity. It aims to show how groups of innovative people invented a new world characterised by international capitalism, man-centred subjectivity and claims of communal participation, and why their new world(s) became the dominant framework of European history for the centuries to follow. The first modern European colonies in the near Atlantic Ocean were both a laboratory for, and a crucial step to, the successful establishment of a new world within and without Europe.

The United States and The Global Cold War

30 credits, semester 2

For two decades, historians have extended the geographic boundaries of the Cold War, thrusting the Global South to the fore of a field usually focused on superpower rivalries. Yet while this scholarship has deliberately decentred the United States, it has also shed new light on American history, illuminating – among other things – the international legacy of the New Deal, the anti-colonial cosmopolitanism of civil rights activists, and the potent force of American soft power. Drawing on a rich recent historiography, this module explores the interplay between the domestic and the foreign in a global conflict.

Wikipedia and Medieval History

15 credits, semester 1

Wikipedia is today probably the world's chief source of historical knowledge. Every day, its pages on history are read by many thousands of people. Yet professional historians tend to avoid engaging with it. This course seeks to change that. As well as discussing critical perspectives on Wikipedia, you'll receive practical training in creating or editing a page on a historical topic you've chosen. You'll then apply your studies in a hands-on way to improving the encyclopedia's coverage of the Middle Ages,  and reflect on the kind of historical knowledge of the period it promotes and disseminates. You don't need a background in medieval history for this course, but please note that you will be required to edit a page on a medieval topic.

Women and Power

30 credits, semester 2

This module explores the roles women have played within and through structures and discourses of power: as wielders of office, as victims of persecution, and as agents of cultural change. The module focuses on Europe in the High Middle Ages, drawing on a range of theoretical approaches and on written and material forms of evidence to enable students to reach their own insights. While focused on the Middle Ages, the module offers itself as a case study in the methodological challenge of identifying female agency in the historical record.

Work Placement

15 credits, semester 2

This module aims to give you an insight into the day to day workings of a museum, school or research institute, in order to develop history-specific vocational skills and promote reflection on the issues involved in disseminating history outside academia. You will apply for a placement from those offered at the start of the academic year and then negotiate a role within that placement relevant to your area of study. Following a placement of approximately 100 hours with an employer, your written work will reflect on the work you undertook.

Worlds of Labour: Working Class Lives in Colonial South Asia

30 credits, semester 2

Together with the image of India as an emerging economic 'powerhouse', there is another image that receives a huge amount of international attention - that of over-crowded slums, pavement-dwellers, grinding poverty, filth and squalor. Behind such generalised depictions, though, lie rich and varied lives of working class Individuals. This module intends to examine these lives in some detail, and will situate them within a wide range of contexts (e.g. e.g. within mills, factories, plantations, the White Sahib's bungalow etc). In doing this, it will focus on the long nineteenth century – a period when urbanisation had gathered pace, and factories, mills and plantations became more numerous.
Your 75 credit option module selection can include up to 30 credits from this guided module list. 
The modules listed below are those that our partner Departments are planning to offer in 2021-22. Please note that module availability may still change at this stage i.e. due to staff changes or student uptake at registration. The owning department has final approval for acceptance onto their modules and, if space becomes limited, priority may be given to students registered in that department.
Please note that teaching and assessment methods may vary for non-History modules
Archaeology modules

Digital Cultural Heritage: Theory and Practice (15 credits)
Heritage, Place and Community (15 credits)
Heritage, History and Identity (15 credits)

Digital Humanities Institute Models

Introduction to Cultural Data

(30 credits)

Introduction to Digital Culture (

30 credits)

English modules

Early Modern Books (15 credits)
Humans, Animals, Monsters & Machines: From Gulliver's Travels to King Kong (30 credits)
Renaissance Transformations (30 credits)
Romantic Gothic (30 credits)

Languages modules

Students can select Languages for All modules where relevant to their programme of study. These modules are 10 credits and must be taken alongside the appropriate Enhanced Languages module (5 credits). 
Information about staff working in the medieval early modern period including their expected availability in 2021-22. Please note that this information could still change at this stage in the academic year.
Mike will be on research leave in semester two 2021-22
Rosie will be on research leave in semester two 2021-22.
Tom will be on research leave in semester one 2021-22
Erin will be on leave in 2021-22. Cover will be provided.
---
Teaching
The majority of our teaching comprises seminars and tutorials, with some lecture-style information sessions for modules such as the Dissertation.
In 2020-21, we are still using these formats, complemented by engagement with additional teaching resources and activities. For our interactive classes, we'll be using a combination of face-to-face and digital teaching, and you'll have regular, timetabled sessions of each form.
Face-to-face sessions will take place in small groups, so that we can use our larger teaching rooms and still maintain social distancing. Digital sessions will be live and fully interactive via the University's online learning systems, where students can speak, use text and share video.
Our academic staff are available for tutorials, and other one-to-one meetings, and hold regular office hours. It may not be possible for these sessions to take place in person, but if not you'll be able to make an audio or video call, which works well for this type of interaction.
---
The content of our courses is reviewed annually to make sure it is up-to-date and relevant. Individual modules are occasionally updated or withdrawn. This is in response to discoveries through our world-leading research, funding changes, professional accreditation requirements, student or employer feedback, outcomes of reviews, and variations in staff or student numbers. In the event of any change we'll consult and inform students in good time and take reasonable steps to minimise disruption.
Information last updated: 15 April 2021
---
Explore all postgraduate courses
A masters from Sheffield means in-depth knowledge, advanced skills and the confidence to achieve your ambitions.