Dr Andrew Tompkins
DPhil (Oxon), FRHistS
Lecturer in History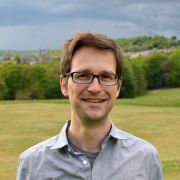 Profile

I am a historian of contemporary (post-1945) Europe with a particular interest in environmental, spatial and transnational history.

My first book, Better Active than Radioactive!, examined French-German networks of anti-nuclear protest in the 1970s, and I continue to write and teach about activism, social movements, and periods of political upheaval such as 1968 and 1989

 The other major strand of my research looks at everyday life in shared border environments, such as along the Rhine River and the Oder-Neisse line. 

I joined the department in 2015 and previously held positions at the Humboldt-Universität zu Berlin as well as Balliol College, Oxford.

I received my DPhil in History from the University of Oxford in 2013. I also studied History at the University of Chicago (M.A., 2008) as well as Political Science and International Studies at the University of North Carolina (M.A., 2005 and B.A., 2002). 

My research has been funded by scholarships from the German Universities' Excellence Initiative, the German Academic Exchange Service (DAAD), Centre Marc Bloch, Clarendon Fund, and Berliner Abgeordnetenhaus as well as grants from the Society for the Study of French History, German History Society, the Polish government and others.
Qualifications

B.A. in International Studies, University of North Carolina at Chapel Hill (2002)
M.A. in Political Science (Trans-Atlantic Masters), University of North Carolina at Chapel Hill, Sciences Po Paris and Humboldt-Universität zu Berlin (2005)
M.A. in History, University of Chicago (2008)
DPhil, History, University of Oxford (2012/2013)
Research interests

Environmental history
Transnational history
Spatial history
Everyday history
20th-century Europe
Publications

Books

Journal articles

Chapters

Book reviews

Reports

Theses / Dissertations
Research group

Research supervision

I am pleased to supervise postgraduates interested in the environmental, social, or cultural history of Germany, Poland, France, and other countries in contemporary Europe.

I am likewise interested in questions of borders, migration, and minority populations (national, regional, or sexual) as well as the study of protest, revolutions, and social/political movements in Europe and beyond.

Current Students

Completed Students

Mirjam Galley - Builders of Communism, 'Defective' Children and Social Orphans. Soviet Children in Care after 1953.

 
Grants

DAAD, 2020-2022
Humboldt Post-Doc Fellow (German Universities' Excellence Initiative), 2013-2016
Teaching activities

Undergraduate

HST2504 - Two Germanys, 'One People'? Central Europe, 1945-1990
HST3162/63 - Solidarity, Sabotage, Students: Protest in Europe, 1968-89

Postgraduate

HST6083 - Borders in 20th Century Europe