Dr Fraser Raeburn
Teaching Associate in Modern European History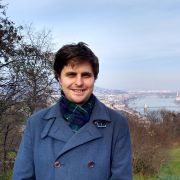 f.raeburn@sheffield.ac.uk
Jessop West
Tuesdays 1-3pm
Full contact details
Dr Fraser Raeburn
Department of History
Jessop West
1 Upper Hanover Street
Sheffield
S3 7RA

Profile

I completed my PhD in history at the University of Edinburgh in 2018, where I've since worked as a Teaching Fellow and later Lecturer in Modern European History. I moved to Sheffield in late 2020 to take up my current role, and much of my teaching here will be focused on Europe in the decades after 1945.

As a researcher, I'm interested in how ideas, resources and people are mobilised across borders, particularly in reaction to the rise of European fascisms in the 1930s. My research to date has focused mainly on international and transnational responses to the Spanish Civil War (1936-9), exploring how the ideological stakes of this conflict inspired an unprecedented global response, particularly in the form of foreign volunteers. My first book, based in part on this project, was published by Edinburgh University Press in September 2020.

I am currently working on a new comparative project on similar foreign war volunteer mobilisations in other twentieth century contexts, exploring the intersections between transnational networks, solidarity movements and humanitarianism in contexts such as the Israeli War of Independence and the Soviet occupation of Afghanistan.
Qualifications

PhD (Edinburgh)
MSc (Edinburgh)
BA (Sydney)
Publications
Teaching activities

HST117: Making the Twentieth Century

HST287: From World War to Cold War

HST209: Writing History

HST3000: Uses of History

HST6062: Cold War Histories    
Public Engagement

Since 2019, I've helped run one of the world's largest digital public history projects, AskHistorians. I chaired the committee that organised its first-ever digital conference in September 2020, which used digital platforms to blend scholarly exchange with public outreach on an unprecedented scale, reaching a global audience of tens of thousands.

As well as various public talks and lectures, I've also contributed to multiple popular blog series, such as History Workshop Online, Conference Inference, Language of Authoritarian Regimes , Four Nations History and the Scottish Graduate School for Arts & Humanities Blog.