Dr Laura Almagor
BA, MA, PhD
Lecturer in Twentieth Century European History
Careers and Alumni
Digital Media and Communications Officer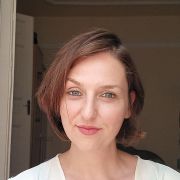 l.almagor@sheffield.ac.uk
Jessop West
Full contact details
Dr Laura Almagor
Department of History
Jessop West
1 Upper Hanover Street
Sheffield
S3 7RA

Profile

I am a historian of modern Jewish history, with a focus on Jewish politics and culture in the late nineteenth and twentieth centuries. I specialize in Jewish political movements and trajectories in Europe, North America and the Middle East, as well as in the place of political Jewry within a larger geopolitical context.

I received my PhD from the European University Institute in Florence in 2015. Since then, I have held fellowships at the Vienna Wiesenthal Institute for Holocaust Studies, the Center for Jewish History in New York City and the Central European University in Budapest. Before joining the University of Sheffield's Department of History in June 2020, I was a Teaching Fellow at the London School of Economics and Political Science's Department of International History.
Qualifications

BA Language and Culture Studies (Utrecht University)
MA History of International Relations (Utrecht University)
PhD History and Civilization (European University Institute)
Research interests

As a historian of modern Jewish history, I am particularly interested in the intersection of Jewish history and issues of migration, colonialism and postcolonialism, as well as various manifestations of nationalist and internationalist ideologies. Moreover, I have a growing interest in historiographical debates about the Holocaust, as well as in Yiddish and Yiddishism, the development of the scholarly field of Nationalism Studies, and post-1945 refugee issues. 

My first monograph Beyond Zion: The Jewish Territorialist Movement, was published by The Littman Library of Jewish Civilization in 2022. This book deals with the Jewish Territorialists, who looked for places of settlement for Jews outside both Europe and Palestine. I argue that the Territorialist movement should be understood both as part of a larger narrative of Jewish political behaviour, and as a manifestation of larger geopolitical trends and discourses related to issues of migration, colonialism and population politics.

Together with Dr Haakon Ikonomou and Dr Gunvor Simonsen (Copenhagen University), I co-edited Global Biographies: Lived History as Method, published by Manchester University Press in 2022. I also co-lead the Global Biography Research Network GloBio: www.global.bio. 

My current project focusses on the intersection between the post-1945 Jewish refugee crisis and the era of decolonisation.
Publications

Books

Journal articles

Chapters

Book reviews
Research group

Research supervision:

I am happy to supervise students interested in Jewish history, nationalism studies, migration studies, political ideologies, and biography. My main expertise lies in the late nineteenth and twentieth centuries and focuses on Europe and transatlantic relations.

 Current students

Secondary Supervisor
Teaching activities

Undergraduate:

HST112 - Paths from Antiquity to Modernity
HST31019 - The Holocaust

Postgraduate: 

HST6603 - Modernity and Power
HST61024 - Nationalisms revisited: Jewish and Arab political ideologies, 1897-1948

 
Professional activities

Administrative Roles:

Digital Media and Communications