Dr Sarah Miller-Davenport
B.A. (Oberlin College), Ph.D. (Chicago.)
Senior Lecturer in 20th Century US History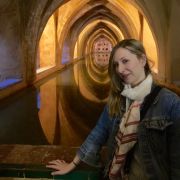 Profile

I joined the department in 2014. I studied history at Oberlin College, worked at an international foundation in New York City for a few years, and then went on to receive my Ph.D. from the University of Chicago in 2014.

My approach to research and teaching seeks to broaden the study of U.S. history by exploring the intersections of global developments and domestic political, social, and cultural change.

My first book explores the ways in which Hawai'i statehood in 1959 represented a transformational moment in how Americans defined their nation's role in the world, and how they negotiated the problem of social difference at home—a shift that heralded the emergence of multiculturalism after the end of civil rights reform.

My next project explores the reinvention of New York as a 'global city' in the wake of its fiscal crisis in the 1970s. 

I have received funding for my research from the Leverhulme Trust, the New York Historical Society, the White Rose Collaboration Fund, and the Society for Historians of American Foreign Relations, among others.

My recent book, Gateway State: Hawai'i and the Cultural Transformation of American Empire (Princeton 2019) received honourable mention for the British Association of American Studies book prize and my Journal of American History article on American evangelical missionaries in Japan and the Philippines received the Bernath Article Prize from the Society for Historians of American Foreign Relations.
Research interests

My research focuses on how Americans conceptualized their nation's role in the world after World War II, and how the advent of the United States as a global superpower transformed domestic culture, politics, and social relations.

My recently published book, Gateway State: Hawai'i and the Cultural Transformation of American Empire (Princeton 2019), explores the impact and meaning of Hawai'i statehood in 1959 and its complicated and contradictory relationship to the global movement for decolonization, which in turn shaped the emergence of multiculturalism in American society.

It analyzes how and why Hawaii became a site for both managing human difference and for projecting U.S. global power, twinned projects that came together in Hawai'i and rippled outward. How did Hawai'i go from a racially problematic overseas territory to the symbol of John F. Kennedy's 'New Frontier,' which imagined the U.S. as a nation unshackled from old ideas of race, ethnicity, or territoriality?

By tracing the political struggles over statehood and its cultural aftermath, my project shows how this conception of the nation was both popularised and contested in American society, creating new racial formations in the process.

My next project, Capital of the World: New York City and the End of the Twentieth Century aims help to provincialize globalization by focusing on New Yorkers as both producers and subjects of the worldwide economic changes of the late-20th century.

It will illuminate the intersections of the local and global by examining a range of actors, from municipal officials to museums to hospitality associations, who promoted world integration as a solution to city problems—and whose efforts to enrich New York via foreign capital had profound consequences for its mostly working class and low-income residents.

Other research has examined the role of American missionaries in Asia in the post-WWII revival of evangelicalism at home and the impact of the Peace Corps on multicultural education in the United States.

I am involved in a number of research collaborations. As co-coordinator of the Cold War Cultures Network, I help to engage both students and academic staff from around the world in forging new approaches to the study of the Cold War.

I am also co-principal investigator of 'Imperial Afterlives: The Crisis of Nation and Citizen in Historical Perspective'.

This the White Rose Collaboration project investigates the contingency and volatility of the nation-state system and the impact of alternative political orders—federations, commonwealths, transnational regimes, national incorporation— that emerged from decolonization and have informed the struggles of the post-imperial age.
Publications

Books

Journal articles

Website content
Research group

Research supervision

I am happy to supervise students working on 20th century U.S. politics, culture, and foreign relations.

Completed Students

Lucy Bell (second supervisor) - From Cooperation to Confrontation? Trade Unionism, British Politics and the Media, 1945-1979.

 
Grants

International Academic Fellowship (for affiliation with the Urban Democracy Lab at New York University), Leverhulme Trust, 2020-2021 (£31,600)
Robert David Lion Gardiner Foundation / Andrew W. Mellon Foundation Fellowship, New York Historical Society, 2019-2020 ($60,000)
Short-Term Residential Fellowship, New York Public Library, 2019 ($2000)
Carnevali Small Research Grant, Economic History Society, 2019 
Co-principal investigator, "Imperial Afterlives: The Crisis of Nation and Citizen in Historical Perspective," White Rose Collaboration Fund, 2017-2019 
Teaching interests

My teaching interests reflect a broader commitment to expanding the geographical and conceptual scope of U.S. history. I aim to help students to see the U.S. as one nation within a larger interdependent world system that at once defies the category of the nation-state and is defined by it. I teach modules on US culture and the Cold War, global New York City, and US foreign relations.
Teaching activities

Undergraduate:

HST120 - History Workshop
HST202 - Historians and History
HST31358/9 - The United States and the Cold War, 1945-1975

Postgraduate: 

HST6063 - Another Country: America and the Problem of Colonialism
HST6604 - Approaches to the American Past
Professional activities

American Historical Association, Member
Organization of American Historians, Member
Society for Historians of American Foreign Relations, Member

Administrative roles:

Deputy Director of Learning and Teaching
Public engagement

"History Happy Hour," discussion with school teachers on global New York City, sponsored by the New Historical Society, June 2020
"Capital of the World: New York City and the End of the 20th Century," public talk sponsored by New York Historical Society public talk, May 2020
"Working with Primary Sources," workshop with local middle school and high school students, New York Historical Society, December 2019

In the media:

"The Unexpected Logic of Art Economics: Arts and Inequality In 1980s New York," Gotham blog, March 5, 2020
Interviewed for "Tiki Time!" episode of Gastropod, October 22, 2019.
"What Hawai'i's statehood says about inclusion in America," Made by History blog of the Washington Post, August 16, 2019.
Discussion of Gateway State, New Books Network podcast, May 2019.
"Racists in Congress fought statehood for Hawaii, but lost that battle 60 years ago," The Conversation, March 18, 2019.
"Out on an Island: How Hurricane Maria Revealed the Legacy of American Colonialism," History Matters, October 17, 2017.
"Farewell Mad Men," The Conversation, May 18, 2015.
Discussion of "'Their Blood Shall Not Be Shed in Vain': Evangelical Missionaries and the Search for God and Country in Post-World War II Asia," Journal of American History Podcast, April 2013.