Lucy Morgan
Department of History
Research student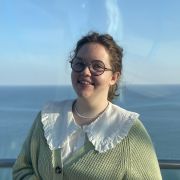 Profile

Thesis title: Intersections of manhood and paternity in post-Civil War England, 1650-1750

Supervisors:

Period:

1500-1800

Thesis abstract:

In my research I will investigate the social value of paternal roles (particularly marriage and fatherhood) from 1650 to 1750. The political and ideological shift in this period was reflected in a change in the behaviours ascribed to manhood; the ideal man ceased to be defined by his honour and came to be associated with civility and politeness. I seek to understand how this was reflected in contemporary depictions of paternity and paternal roles, and how this affected relationships between men.

I am particularly interested in appropriate standards of behaviour and how individuals judged the behaviour of their peers. My sources are taken from men's life-writing, including Sheffield's Wentworth Papers, and other written texts like conduct-books, literature and theatre, depositions, and news reports. I hope to build up a fuller picture of the expected traits and actions associated with paternity and paternal roles, and what the consequences were for men who did not embody those standards.
Qualifications

PhD History, University of Sheffield, 2021 - present
MA Early Modern History, University of East Anglia, 2018-2019
BA (Hons) History, University of East Anglia, 2015-2018
Grants

Mark V Williams Scholarship (University of East Anglia, May 2018) £7,550
Professional activities

Member of the Northern Early Modern Network
Sub-Unit editor of the Midlands Historical Review
Publications and Conferences

Book Reviews

"Evelyn Welch, ed., Fashioning the Early Modern: Dress, Textiles, and Innovation in Europe, 1500–1800." European History Quarterly 50, 4 (2020)
"Valerie Schutte and Estelle Paranque, eds, Forgotten Queens in Medieval and Early Modern Europe: Political Agency, Myth-Making, and Patronage." European History Quarterly 50, 3 (2020)
"Silvia Z. Mitchell, Queen, Mother, and Stateswoman: Mariana of Austria and the Government of Spain." European History Quarterly 50, 1 (2020)
"Meredith K. Ray, Daughters of Alchemy: Women and Scientific Culture in Early Modern Italy." European History Quarterly 49, 3 (2019)

Articles

"Cross-Dressing for Self-Empowerment: a Case Study of Margaret Cavendish." EPOCH 1, 4 (2021)