Mabel Winter
Department of History
Research student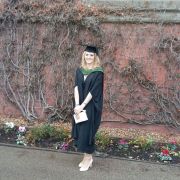 Profile

Thesis title: Finance, commerce, and politics in seventeenth-century England: The case of Thompson and Company 1671-1678.

Supervisors:

Period:

1500-1800 

Thesis abstract:

This thesis uses the bank of Thompson and Company, 1671-1678, as a case study to investigate wider financial practices, social and commercial networks, and the relationship between finance, commerce, and politics in the later seventeenth century. It takes a microhistorical approach, examining the institution of Thompson and Company, the social networks of its partners, the identity of its creditors, and the events and circumstances that led to its collapse.

The original books and papers of the bank were lost or destroyed by the partners after their bankruptcy, so in order to investigate the bank it has to be reconstructed from other surviving source material. The primary source base used for this study is Chancery court proceedings from 1660-1688 held at the National Archives.

Thompson and Company rarely feature in existing historiography. The majority of existing studies that do mention Thompson and Company focus on what the partners and their bank can reveal about the political and economic life of their relative, the poet and politician Andrew Marvell.

This thesis therefore aims to situate Thompson and Company within the wider historiography of English banking, finance, commerce, and politics, demonstrating the larger significance of the bank as an institution and its intersection with many aspects of seventeenth-century society and culture.
Qualifications

PhD History, University of Sheffield, 2016 - present
MA Historical Research, University of Sheffield, 2016
BA (Hons) History (First Class), University of Sheffield, 2015
Grants

Awards:

PhD scholarship: AHRC White Rose College of the Arts and Humanities
Teaching activities

University of Sheffield Teaching Assistant: 

HST115 The 'Disenchantment' of Early Modern Europe, c. 1570-1770
HST247 A Protestant Nation? Politics, religion and culture in England 1558-1640
Publications and conferences

Conference and seminar papers:

'Institutional trust in an era of interpersonal credit? The evidence from Thompson and Company', Bookkeeping, intermediation and financial organizations in early modern Europe, Uppsala University, Sweden (5-6 December 2019)
'The Collapse of the Bank of Thompson & Company: Finance, banking, and politics in seventeenth century London', Social History Society Conference at the University of Lincoln (10-12 June 2019)
''The great Player and Thompson, &c., find by demonstration they are not so powerful as they made themselves': Politics, power, and economics in seventeenth-century England', Society for Renaissance Studies Conference at the University of Sheffield (3-5 July 2018)
'"Marvell's Friends in the City" revisited: The Bank of Woollchurch Market, clandestine politics, and early Whig movements', South-Central Renaissance Conference, Exploring the Renaissance, in Atlanta, Georgia, USA (12-14 April 2018)
'The Bank at Woollchurch Market and England's 'Financial Revolution'', Economic History Society Annual Conference at Keele University (6-8 April 2018)
'Politics, Commerce, and Banking in Seventeenth-century England: The Case of Thompson & Company 1670-1677', Connections in Commerce and Consumption at the University of Sheffield (15-16 September 2017)
'The Case of Thompson & Company: commerce, banking, and politics in the late seventeenth century', CHORD Conference, Retailing and Distribution in the Seventeenth Century, at the University of Wolverhampton (7 September 2017)
Friendship: ancient ideals in the early modern world, York Cabinet of Curiosities Conference (15th October 2015)