Dr Radha Kapuria
PhD
Leverhulme Early Career Fellow in History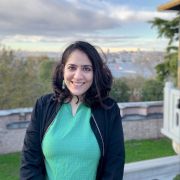 Profile

With family roots in west Punjab (current-day Pakistan), I grew up in the historic city of Delhi, India, where I graduated from the University of Delhi with a Masters degree in History in 2009. I then took a gap year, campaigning for sustainable food production and holistic agricultural practices.

Moving from agriculture to culture, I researched north India's oldest classical music festival for my MPhil degree at the prestigious Centre for Historical Studies in New Delhi's Jawaharlal Nehru University.

I pursued my PhD at King's College London in 2018, as Commonwealth Scholar from India (2014-17), and later as Isobel Thornley Doctoral Fellow at the IHR in London (2017-18). During 2018-2019, I was Teaching Fellow in Higher Education at King's.

Currently I am the Leverhulme Early Career Fellow in History at Sheffield, 2019-2022, on the project 'Subverting Borders: Musicians, Nationalism and Memory in Punjab, 1947–1991', which maps the impact of South Asia's Partition in 1947 on the social history of musicians and performing artistes in newly-divided Punjab.

My main research interests are in South Asian social, cultural and gender history; migration, displacement and borderlands; conflict, decolonisation and culture; and the political and historical contexts of cultural expression more generally.
Research interests

My PhD offers the first social history of music in colonial Punjab (1849-1947), to show the adaptability of its musical traditions, and their intrinsic role in shaping multiple identities among performers, patrons and listeners across different communities.

Focused on the lesser-known history of art or classical music in Punjab, it maps the tension between courtly and middle-class patronage; between folk and classical traditions; and between cosmopolitan and devotional contexts for music making.

It was passed without corrections and was shortlisted for the Bayly Prize 2019.

My M.Phil dissertation, defended at the Centre for Historical Studies in Jawaharlal Nehru University, was a micro-history of the oldest Hindustani music festival of north India, in Jalandhar, east Punjab.

Combined with my doctoral project, this earlier research into the nineteenth- and early twentieth- century histories of music in Punjab provides the foundational underpinning for my current postdoctoral project that is focused on the mid-late twentieth century.

My Leverhulme project maps the history of musical exchange across the Indo-Pak border, by surveying how Punjabi musicians' life-stories, musical production and national identities developed in radically different - if connected - ways in India, Pakistan and the British diaspora after, and in great measure because of, the cataclysm that was 1947.
Teaching interests

South Asia, Cultural History, Social History, Gender, Migration.
Teaching activities

Undergraduate:

HST3307 - Conflict, Cultures and (De)Colonisation

Postgraduate:

HST6606- The World in Connection: Themes in Global History
Professional activities

Member, European Association of South Asian Studies.
Member, British Association of South Asian Studies.
Member, American Council for Southern Asian Art.
Member, British Forum for Ethnomusicology.
Member, Indian History Congress.
Public engagement

2020

Invited speaker at the Shiv Nadar University in Dadri, near New Delhi, January 9 and at the Ambedkar University Delhi, India, January 20.
Invited speaker at the University of Manchester for the  Postgraduate Students' Forum titled Manchester Progressive, March 6.
Online lectures and events:
Lyallpur Young Historians Club, Pakistan: Invited Public Lecture on Musical Citizenship and Custodianship and Punjab's Musicians (May 14, Facebook Live).
Manchester Museum and British Council-led South Asian Heritage Month (SAHM): In conversation with Dr Priya Atwal about female performers at Ranjit Singh's court (July 22, Zoom).
SAHM: In conversation with the Grewal Twins on Partition and Music (August 13, Instagram Live).
UK Punjab Heritage Association (UKPHA): Invited public lecture on nineteenth century musicians and dancers as part of the UKPHA's Virtual Book Club (September 21, Zoom).

2019

Invited speaker on 'Mirasis, Music and Modernity' at Forman Christian College University, Lahore, Pakistan, September 20.
Invited speaker at Ashoka University, Sonepat, India, April 10.
Invited speaker at Jawaharlal Nehru University, New Delhi, India, April 24.

2018