Whether your aim is to progress to a PhD or to develop a career in the heritage sector, we offer a flexible and supportive programme to support your goals.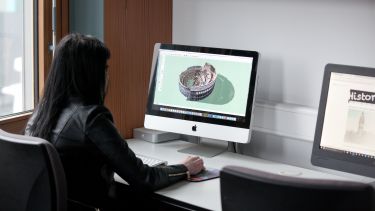 All of our MA programmes are available full-time or part-time, offering you the flexibility to study at a pace that can fit in with your personal or professional life.
All students take 180 credits - 120 credits of taught modules and a Dissertation worth 60 credits. You will take three core modules and choose from a selection of option modules.
Full time
If you take the MA programme full-time you will study all of your credits over one year. 
Part-time
If you take the MA programme part-time you will study your credits over two years. You will take a subject-specific core module in year one and the Research Presentation and Dissertation modules in year two.
We recommend spreading your overall credits evenly across both years of study to create a balanced workload.
For information on modules and teaching for each course, see our masters course pages.
---
These modules enhance the skills and knowledge developed through the core modules, allowing you to focus on the skills that are most relevant to you.
Research skills for Historians
This module is designed to equip you with the research skills necessary for independent investigation and further study in History.
You will discuss the changing nature of the historical discipline as it has adapted to interdisciplinary impulses, and the skills needed for a more refined analysis of both textual and visual primary sources.
Masterclasses will help you familiarise yourself with different types of primary sources and work more effectively with library collections and develop subject-specific IT skills.
We particularly recommend this module for students who have been out of education for a number of years or whose first degree isn't in history.
Languages
Please note that all language classes are subject to availability.
Latin
Students studying medieval and early modern history will be able to take Latin modules taught by the Modern Languages Teaching Centre.
As well as learning to read and understand Latin texts, you will gain an understanding of the influence of Latin on English and Romance languages, and the civilisation within which the language and literature that you are studying was produced.
Beginners and post-beginners classes are available depending on your prior knowledge.
Modern languages
Depending on your area of specialism, a range of modern language are available through the Modern Languages Teaching Centre. Students have in the past taken modules in Spanish; German; French and Arabic.
Beginners and post-beginners classes are available in most languages depending on your prior knowledge.
Palaeography
Available to students studying Early Modern history this module introduces you to the different forms of law hand and secretary hand current in the early modern period including transitional styles and the emergence of italic script.
You will learn the technical skills necessary to undertake primary research using manuscript sources from the sixteenth and seventeenth centuries, and also to undertake editorial work on these kinds of documents.
---
We offer tailored support for students planning to progress to PhD study following their MA degree.
Workshops
In Autumn, there will be workshops to help you prepare for writing funding applications. 
These sessions provide you with information about the funding opportunities available at Sheffield and give you the opportunity to discuss and receive feedback on your draft research proposal.
You can also speak to current PhD students who have been successful in applying for funding and to review successful applications.
This will enable you to tailor your research proposal to the criteria of major funding bodies and ensure that you are presenting your research, suitability and fit in the strongest way possible.
One-to-one support
You will be encouraged to engage in one-to-one sessions with your proposed supervisor. They will be able to offer tailored support in devising and developing your research project and identifying appropriate research material.
Your supervisor will also offer guidance on how to best present the originality; intellectual purpose and research context of your proposal ensuring that you are framing your approach and rationale for undertaking your project and successfully identifying why your suitability for undertaking the project and why your proposed supervisor - and Sheffield more generally - are a strong fit for your research.
You will be encouraged to begin speaking to your proposed supervisor early to ensure that you have plenty of time to work with them and develop a strong project and well written proposal.
---
We have a range of option modules focusing on aspects of public history.
These modules are available across all of our degree programmes and are designed specifically to provide you with the opportunity to reflect on the role of history in the public sphere and enable you to develop different kinds of transferable skills and experience. These can be especially valuable for those considering a career in history outside of academia.
There are also options available from other departments in the Faculty that allow you to focus on digital humanities; public engagement and heritage, community and identity.
Work Placement
This module aims to give you an insight into the day to day workings of a museum, school or research institute, in order to develop history-specific vocational skills.
You will gain practical experience of the application of historical skills and knowledge outside of academia and be encouraged to reflect on the challenges involved in disseminating historical knowledge and understanding in a public context.
Placements vary from year to year but there is always a range of projects on offer across a variety of organisations. You will complete a placement application form indicating your preferred placements as part of the registration process.
Once your placement is confirmed, you will negotiate your specific role with the work placement partner.
See examples of placements and projects

250 Anniversary of the Circus Conference - 'Circus and Beyond' conference: A reflection on the integration of the academy and the wider community
Abbeydale Picturehouse - Oral history and the preservation of Sheffield's cultural heritage: experiences at the Abbeydale Picture House.
ArcHeritage / Dearne Valley Landscape Partnership - Power and Accessibility in the Creation of Heritage: A Historian's Reflection on Working within Community Archaeology
Barnsley Arts, Museums and services - The Dissemination of History in museums: cultural environment or place of learning?
Clerical exile in late Antiquity - Migration in Faith: Clerical Exile in Late Antiquity (325-600)
Doncaster Heritage Services: Doncaster 1914-18 - Public history, private interests? Reflections on Doncaster museum and issues of community representation
Makers Abbeydale Road - 'A Street Through Time': Abbeydale Road Local History Project
Sheffield Manor Lodge - A Reflection on the Boundaries of Public History
Nether Edge History Group - A subject divided? A case study of the role of the historian in Nether Edge History Group
Peak in the Past Community Heritage Project - The Promotion of Public History Through Online Resources
Sheffield Library Archives & Special Collections - A Historian in the Workplace: Reflections from the archive
Sheffield Manor Lodge - The Pursuits of Global Heritage and Developing Audiences in a local Setting
Sheffield Town Trust and the Old Town Hall - 'Encouraging ownership': Reconciling explorations of history outside of the academy
Sheffield University Heritage Office & Alumni Office - A reflection of public History: museums, exhibitions and local history.
The Digital Panopticon - Reflections on the Digital Panopticon
The History of Classics in Sheffield - When the Layman met the Academic: Reflections on Public History
The National Railway Museum - In the Museum: Presenting the Public with the Past
Tinsley Time and Travel - 'The Last Vestige of Rural Beauty': Local heritage and identity in Tinsley, Sheffield.
Presenting the Past: Making History Public
This module focuses on the interpretation and creation of 'public history'. It enables you to reflect on the challenges involved in disseminating history outside academia.
You will develop critical skills in interrogating public history through analysis of examples as well as communication and presentation skills for non-academic audiences by working as part of a group to develop your own project and create an example of a public history output.
Students have in the past created websites; mobile apps; blogs; twitter feeds; poster displays; films; video and oral interviews; interactive exhibitions often using a combination of these media.
Optional workshops will help you to develop the necessary skills in basic web design; multimedia production and editing as well as 3D modelling to enable the creation of virtual exhibitions.
This module may be of particular interest if planning to pursue careers in heritage, museums or education.
See examples of placements and projects

Medieval Sheffield (Video documentary)
Forged in Time: Women of Modern Sheffield (Virtual exhibition)
The History of Sheffield's Music Scene: A fan's perspective (Video documentary)
Circa Conversations (Blog and podcast)
Wentworth Woodhouse: Britain's Forgotten Palace (Video documentary)
Jefferson: Life, Liberty, and Slavery at Monticello (Virtual exhibition)
"We are Women, We are Strong" (Video documentary)
The Old Lighthouse Podcast (Podcast)
The King's Own Royal Light Infantry in the Second World War Exhibition (Virtual exhibition)
The Battle of Orgreave (Video documentary)
Circus in the City: 250 year of Circus in Sheffield (Video documentary)
Final Remembrance Podcast (Podcast)
Western Road's War Memorial Trees (Video documentary)
Public History and Policy: Theory and Practice
This module explores ways that the best findings of specialist, academic history can be used to engage a wide audience to influence its understanding of and views on policy. Seminars and readings employ case studies (from ancient to modern history and around the globe) and engagements with practitioners in order to glean insights about how and why historians have (more or less) successfully engaged with policy and policy makers.
You'll have the opportunity to write a policy paper (or similar piece aimed at non-specialists) on a topic selected in collaboration with the module leader.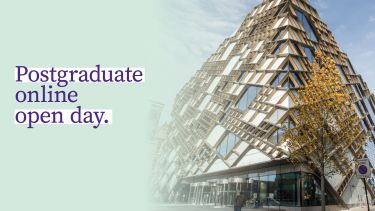 Postgraduate online open day
Book your place at our online open day on Wednesday 26 April to find out more about postgraduate taught study at the University of Sheffield.