This research hub explores the ways in which ideas and arguments have been conveyed, disseminated and implemented at multiple levels of culture.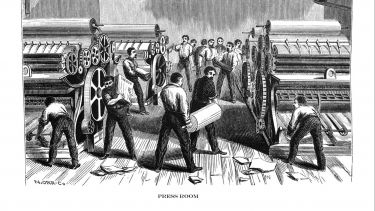 Off
About our research
The 'Transmission of Ideas' research hub provides a forum for colleagues to discuss a number of themes and approaches relating to ways, forms and modes whereby ideas and arguments were conveyed, disseminated and implemented at multiple levels of culture, society and government across a wide chronological range from classical civilization to the late twentieth century, in Europe and Asia.
Five specific themes have been identified for collective exploration:
Genre
Authorship
Print/manuscript culture and networks
Education and translation
Expertise and the formulation of policy
---
Hub activities
The hub got off to a flying start in 2017-18 with 'Ancient and Modern Knowledges', a major conference organised by Heather Ellis and Daniele Miano, with speakers from five countries. It is hoped that a special issue of Intellectual History Review will emerge from the conference based on a selection of papers given there.
The department research seminar also had a session in the spring devoted to the hub, where excellent papers were given by Colin Reid and Eliza Hartrich on the transmission of ideas of democracy in Ireland.
In addition to providing feedback on draft articles, and an impending department research seminar paper being given by John Gallagher (Leeds) on urban multilingualism, this year we will also be launching a series of informal 'conversation groups' focusing on specific aspects of the research themes (more to follow!)
---
Hub members
Claire's research focuses on health and medicine in the middle ages, and especially the early middle ages, c. 500-1000 AD. While her textual sources (recipes and other medical texts) were written in the Latin west, and thereby ground her work in Europe, Claire's research investigates connections across Afro-Eurasia during this period in order to explore the movement of knowledge within both global and local contexts.
Kate is a lecturer in eighteenth-century history. She is interested in the use of humour and satire as a means to communicate ideas, especially in the context of an expanding 'public sphere' in Britain.
She also has an interest in social networks and how they facilitate the spread of ideas.
Miriam works on Soviet history and has a particular interest in the practice of letter-writing.
She is interested in how and why the state encouraged letter-writing as a means to gauge the popular reception of its policies and ideology, and also the way ordinary people used letters to communicate with those in power.
Heather is a Vice-Chancellor's Fellow. She is interested in the history of knowledge, education and gender in eighteenth and nineteenth-century Britain. Her most recent book is Masculinity and Science in Britain, 1831-1918 which was published by Palgrave Macmillan in 2017.
Her current research project examines the conceptual and spatial geographies of Britain's literary and philosophical societies between 1781 and 1850.
Mirela's research focuses on written culture, multilingualism and cultural transmission in Byzantium and Central and Eastern Europe. She is currently working on a book entitled Inventing Slavonic: Cultures of Writing between Rome and Constantinople, which offers the first intellectual history of the earliest texts narrating the invention of the Slavonic alphabet.  She is also interested in historiography and the politics of the middle ages in the modern world. To this end she is co-editing a book entitled Is Byzantine Studies a Colonialist Discipline?.
Siobhan is a reader in global history. Her interest in the transmission of ideas relates to ongoing research projects on autobiographical and travel writing in Muslim South Asia.
Of particular interest is the role of authorship, audience and production processes on the construction of a gendered Muslim self.
Tom works on early modern England, and at the moment is looking at the lives of English merchants based in the Netherlands and Germany. As such, he has an interest in how commerce can act as a means of intellectual and cultural exchange, including the exchange of commercial ideas and practices.
In the future, he hopes to consider this area with respect to other commercial contexts.
Máirín's research concerns Britain and Ireland in the 5th to 9th centuries: she is especially interested in the transmission of ideas from the Mediterranean World of Late Antiquity to these islands.
Máirín has explored the impact of these developments on representations of women and the intellectual exchanges that transformed ideas of time reckoning and chronology in this period.
Anthony works principally on early modern English and European history. This has mostly focused on forms of religious and political identity and polemic, which has also fed into broader interests in print culture, the format of university and public disputations, translation, and into the uses of anonymity in transmitting ideas.
His research in modern South-east Asian history partly relates to the nature of public political discourse in post-colonial societies and the evolution and deployment of notions of 'Asian values'.
Julia's work analyses the relationship between government, law and civil society in Western Europe in the late nineteenth and early twentieth centuries. She is especially interested in the relationship between ideas, expertise, including legal thinking, and policy making.
Her first book examined how ideas about risk underpinned the creation of modern welfare states in Europe, and her current book project examines the relationship between nation building and concepts of marriage and the family.
Colin is a lecturer in Irish and British history. He is interested primarily in the dynamics of Irish political life, particularly the development and impact of ideas concerning democracy, popular sovereignty and legitimate government.
He has written on aspects of the history of political thought in Ireland, and also has an interest in biography as a tool for intellectual history.
Danica is a lecturer in medieval history. Her research focuses on the changes in law and government during the central middle ages, although she has a particularly interest in how individual texts and the ideas they contained travelled and were consequently reimagined and re-interpreted.
She has published on medieval church – or canon – law and on the texts that formed it.
Mary works on late 19th and 20th century Spanish history and is particularly interested in non-linearity i.e. how certain ideas, fictions, and modes of practice recur.
Her current project looks at the origins of religious violence in the Spanish Civil War, focusing on currents of counterrevolutionary thought and their transmission through both devotional practice and anticlerical print culture.
Charles works on the earlier Middle Ages. One of his current research interests concerns the transmission of texts and ideas about 'the secular' from Antiquity to the Middle Ages, on which he is currently preparing a publication; he is also interested in the role of new technologies, such as Wikipedia, in shaping the transmission of historical knowledge in the digital age.
Phil is professor of social and cultural history. He is interested in the intersections between 'ancient' and vernacular cultures and the ways in which, over the course of the sixteenth and seventeenth centuries, classical ideas and language came to inform many aspects of everyday life.
He is currently writing a social history of renaissance in England.