Culture, leisure and sport
Discover a wealth of cultural and entertainment options the city has on offer.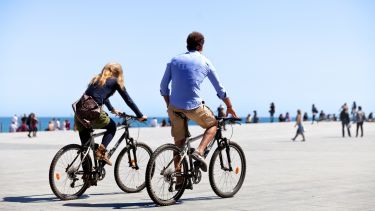 A city of culture
Though it has only about one million people, compared with Athens's five million, Thessaloniki is considered the cultural capital of Greece.
Festivals abound, most notably the International Film Festival, which has been established as one of the most important film festivals in Southeastern Europe and draws film lovers and notable film makers such as Francis Ford Coppola, Faye Dunaway, Catherine Deneuve and Irene Papas to the city every year around November.
In addition, the Documentary Festival, the Demetria Festival, the Archaeological Museum, the Biennale Contemporary Art, numerous music concerts, exhibitions, galleries and events keep the city's cultural life vibrant throughout the year.
Leisure and entertainment
The city has plenty of options to offer for students' free time. On sunny days a nice walk by the seafront is a 'must'.
Our downtown campus makes it easy for our students to choose between many different leisure options while in the centre of the city:
walking around Aristotelous Square and the city's major shopping streets like Tsimiski and Mitropoleos street
exploring Thessaloniki's open markets
strolling around the narrow cobble roads of picturesque Ano Poli (also called Old Town)
choosing to watch a good movie at one of the two major cinemas downtown, the site of the Thessaloniki International Film Festival and the Plateia Assos Odeon multiplex.
These are just some of the choices Thessaloniki has to offer.
If while in the city you find yourself dreaming of nature you may always go to the Seich Sou Hill, located right at the heart of Thessaloniki, and enjoy your walk or run with a panoramic view of the city.
Sports
Whether you like watching sports or are an athletic type yourself Thessaloniki has plenty of options to offer. There are many basketball and football courts, swimming pools and stadiums, like Palais des Sports and Kaftatzoglio, where students choose to exercise.
Also, taking advantage of the city's seaside location Thessaloniki's Nautical Club has rowing and sailing teams, and has five tennis courts.
Bike enthusiasts will love cycling by the seaside and using their bike for their transportation.
The city also organises and hosts many athletics events throughout the year in which students may participate. What's more, the Faculty's extracurricular activities also include many sports clubs in which students may register and combine exercise with their studies.
A world top-100 university
We're a world top-100 university renowned for the excellence, impact and distinctiveness of our research-led learning and teaching.