Dr Efpraxia D. Zamani
BA (Aristotle), MA (Leicester), MSc (Aegean), PhD (AUEB), PGCert (De Montfort)
Information School
Senior Lecturer in Information Systems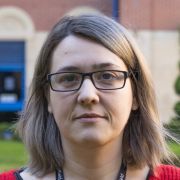 Profile

My background is multidisciplinary. I hold a Bachelor in Architectural Engineering, an MA in Museum Studies and an MSc in Finance and Management Engineering. I received my doctorate from the Department of Management Science and Technology of the Athens University of Economics and Business (Greece) in 2014. After this, I was a post doctoral researcher at the same university until early 2016, when I joined De Montfort University as a Lecturer of Information Systems. I joined the Information School at the university of Sheffield in late 2018.
Research interests

My broad research interests relate to the organizational and social aspects of information systems. I am particularly interested in post-adoption user behaviour, enterprise information systems and ICT4D. For my PhD, I have looked into user sensemaking with portable IT artefacts, such as tablets.

More specifically, I have looked into episodes of disillusionment, and how users develop their own accommodating practices for the purposes of appropriating an IT artefact. My research work has been presented in numerous conferences and has been published in journals such as the Journal of Information Technology, Government Information Quarterly and the International Journal of Electronic Commerce.

I am interested in supervising PhD students with an interest in the use of information systems within personal and work-related contexts, the more social aspects of technology (e.g., ICTs for development purposes),  virtual work and the future of work and productivity in relation to technology.
Publications

Books

Journal articles

Chapters

Conference proceedings papers
Research group

Current PhD students

Norah Alotaibi: The Efficiency and Quality of E-Government Services: An Analytical Study of Smartphone Applications in the Saudi Ministries
Jing Wang: Digital Collaboration: The Establishment of Knowledge Management-Based BIM Collaboration Model
Haoyu Xie: A Research on the Self-Organization of Crowdsourcing Workers
Yuzhen Zhu: Understanding the Role of Information and Communication Technology in the Shaping of Interorganizational Knowledge Exchange Practice: Proposing an ICT-based Generic Knowledge Management Framework for the European Living Lab Ecosystem

I am a member of the Information Systems Research Group.
Teaching interests

I am module coordinator for INF6001 Information Systems Project Management.
I received my PGCert in Higher Education from De Montfort University in 2017.
I am a Fellow of the Higher Education Academy.
Professional activities

Membership of professional bodies

Association of Information Systems

Editorial board membership

Editorial Review Board (ERB) for Industrial Management and Data Systems (IMDS)
Editorial Review Board (ERB) for the Journal of Global Information Technology Management (JGITM)
Associate Editor for the ORBIT Journal

Journal and conference reviewing

Communications of the Association for Information Systems (CAIS)
International Journal of Electronic Commerce (IJEC) - Special Issue on Mobile Business
Information & Management
Journal of Enterprise Information Management
IT & People
Industrial Management and Data Systems
Journal of Global Information Technology Management
Journal of Information Technology
Technological Forecasting and Social Change
Cyprus Review
Journal of Systems and Information Technology
Electronic Journal of Information Systems in Developing Countries

Invited presentations

Invited seminar as part of the seminar series at The London School of Economics and Political Science (LSE) on "The appropriation of IT", London, UK (March 10, 2019)
External Examiner at Birkbeck (University of London) 2017/18 for the degrees: BSc Information Systems and Management and BSc Computing
"Creative and Cultural Roles of Emerging Technologies" Expert panel – Leicester Business Festival 2017, Leicester, UK (November 3, 2017)
Invited Talk on 'Use and User Centricity in Information Systems Research' at the Institute of Information Management, University of St. Gallen, St. Gallen, Switzerland (March 3, 2014)
Invited lecture on 'Strategic imperatives for telecom companies', E-commerce, M-Commerce Module, MBA in Telecoms, Athens University of Economics and Business, Greece (February 2, 2015)