Dr Frank Hopfgartner
PhD (Glasgow), PG Cert (Glasgow), FHEA
Information School
Senior Lecturer in Data Science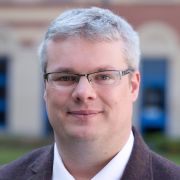 Profile

I am Senior Lecturer in Data Science at the Information School of University of Sheffield. My research to date can be placed in the intersection of information systems (e.g., information retrieval and recommender systems), content analysis and data science. I have (co-) authored over 150 publications in above mentioned research fields, including a book on smart information systems, various book chapters and papers in peer-reviewed journals, conferences and workshops. To date, I have successfully acquired over £1 Million in research funding from national and international sources to support my research.

A further theme of my work is to bridge the gap between academia and industry, e.g., by collaborating closely with industry to incorporate real-world challenges in my teaching, or by creating opportunities for academics to benefit from companies' resources or expertise.

University Responsibilities

MSc in Data Science Programme Coordinator
Head of the Information Retrieval Research Group
Deputy Director of Research
Research interests

Interactive Information Systems such as information retrieval, knowledge sharing, enterprise search, and recommender systems. Experience in user modelling, gamification, personalized search and recommendation, user-centric evaluation, and other challenges that center around satisfying users' information needs.
Content Analysis: Automatic information extraction, indexing, semantic analysis of text documents, analysis of low-level multimedia features, and the application of deep learning methods to classify multimedia content. Manual methods include work on engaging the crowd for data and document annotation and categorization.
Self-tracking & lifelogging and its potentials for personalization. Interested in the analysis, and visualisation of sensor and lifelogging data. Other challenges pertain processing vast amounts of data and identifying user interests, skills etc. and their usage in real world systems like health or recommendation systems.
Publications

Books

Edited books

Journal articles

Chapters

Conference proceedings papers

Reports

Working papers
Research group

Current PhD students

Ahmed Alnuhayt: The Role of Computational Intelligence and Aggregation Systems in Decision Making
Anas Alsuhaibani: Investigating the Role of Social Media in Supporting International Students Transition to Study in the UK
Marc Bonne: Educational games and their impact on mathematics anxiety in University students
Cui Cui: Towards a framework for constructing an open digital library of web archives - Creating a small scale, topic-based digital library of web archives of Chinese studies
Omaima Fallatah: Mapping and aligning large Knowledge Bases
Paula Goodale: Constructing Personal Narratives Through Exploration of Cultural Spaces Online
Ofulue Nchemko: Understanding Motivation and its Impacts on Governance within Crowdsourcing Platforms
Lee Pretlove: The quantified runner: the long-term value and preservation of parkrunners' self-tracking fitness data from the perspectives of the parkrunner, self-tracking device manufacturers and archival institutions
David Walsh: Supporting information access in digital cultural heritage
Zhixue Zhao: Learning from unbalanced data and limited data for automated hate speech detection
Teaching interests

Experience: I am a Fellow of the Higher Education Academy and have completed a teaching certificate at University of Glasgow. I have taught students of STEM and HASS programs in China, Germany, and the UK, and have provided tutorials on current research challenges, e.g., funded by ACM and IEEE, and the ESRC Scottish Graduate School of Social Science.

Topics: My lectures centred around information systems such as databases, information retrieval, semantic search, and recommender systems. Moreover, I directed modules on document encoding, multimedia analysis & design, data analysis, visualisation & communication, and on technical communication for computer scientists. Currently, I direct the Big Data Analytics module of the Data Science program and teach across other PGT programs.

Philosophy: I am committed to enable students to gain advanced skillsets in research & development that are in high demand. For example, I have initiated a collaboration with industry that allows students to evaluate recommendation algorithms in a real-world setting, and frequently host industry partners for the delivery of guest lectures.
Professional activities

Membership of professional bodies

BCS IRSG
Fellow of the HEA

Editorial board membership

Information Processing & Management Journal (Editorial board member since 2016)
International Journal of Online Information Review (Guest Editor of Special Issue)
Personal and Ubiquitous Computing Journal (Guest Editor of Special Issue)
User Modeling and User-Adapted Interaction Journal - UMUAI (Guest Editor of Special Issue)
International Journal of Human-Computer Studies (Guest Editor of Special Issue)

Committee and advisory group membership

German-Chinese Association for Artificial Intelligence (Management Board, since 2019)
Information Retrieval Special Interest Group of The Chartered Institute for IT (BCS IRSG, Steering committee member since 2017)
CLEF 2015 and 2016 Living Labs for Information Retrieval evaluation campaign (Steering committee member)
FP7 CrowdRec project (Advisory board, 2015, 2016)

Journal and conference reviewing

Member of the technical programme committees of all major conferences in the fields of information access (e.g., SIGIR, WWW, CIKM, ECIR, RecSys, IUI, CLEF, TPDL, ESWC) and multimedia (e.g., ACM MM, ICME, ICMR, MMM, MMSys).

Journal reviewing:

International Journal of Multimedia Tools and Applications
International Journal of Human-Computer Studies
User Modeling and User-Adapted Interaction (UMUAI)
ACM Transactions on Information Systems
ACM Multimedia Systems Journal
ACM Computing Surveys
ACM Transactions on the Web
ACM Transactions on Multimedia Computing, Communications, and Applications
Online Information Review
Information Processing & Management
Journal of the Association for Information Science and Technology
CSI Transactions on ICT
EURASIP Journal on Image and Video Processing
Social Network Analysis and Mining Journal
International Journal on Multimedia Information Retrieval
Behaviour & Information Technology Journal
Journal of Web Semantics
Analyst, Royal Society of Chemistry
IEEE Transactions on Image Processing
The Computer Journal, Oxford Journals
Sensors, MDPI

Invited presentations

Public talks at German-Chinese Association of Artificial Intelligence (2019), Cyprus Centre for Algorithmic Transparency (2019), British Museum (2018), National Archives of The Netherlands (2017), Quantified Self Conference (2017), IR Festival Glasgow (2017), German Academic Exchange Service (2015), Film studios Babelsberg (2014).
Keynotes at conferences and workshops: MoST-Rec@CIKM'19 in Beijing, INRA@CIKM'18 in Torino, FIRE'16 in Kolkata, CBRecSys@RecSys'15 in Vienna, Living Labs for IR Challenge Workshop 2014 in Amsterdam, MediaEval'13 in Barcelona
30+ invited seminar talks at research institutes/universities, e.g., at Nankai University, Chinese Academy of Sciences, University of Glasgow, University of Amsterdam, Humboldt Universität, TU Vienna. Panelist at Screen Studies 2019 conference (Glasgow), NTCIR-14 conference (Tokyo), Digital Festival 2016 (Brussels), eHealth360 Summit 2016 (Budapest)

Other roles

Co-ordinator of evaluation campaigns to promote reproducible research, namely NTCIR Lifelog (2015-19), MediaEval NewsREEL Multimedia (2018), and CLEF NewsREEL (2014-2017)
Conference organisation: ACM ICMR'20 (Brave New Ideas Chair), ACM SIGIR CHIIR'19 (Demos and Resources Chair), iConference'18 (Poster Chair), MMM'17 (Demo Chair), HealthWear'16 (General Chair), MMM'14 (Special Session Chair), ICMR'14 (Proceedings Chair), MMM'12 (Demo Chair)
Co-organiser of 30+ workshops and tutorials at major conferences, e.g., on gamification (ACM SIGIR, ECIR, ACM CHI PLAY), quantified self (ACM UbiComp, ACM UMAP, ACM Hypertext, IEEE BIBM), lifelogging (ACM CHIIR, ACM Multimedia, IEEE ICME), news recommendation and retrieval (ACM RecSys, ECIR), real-time data processing and living lab evaluation (ACM RecSys, ECIR, IEEE ICME), and personalization and user modelling (ACM SIGIR, IIiX, UMAP).
Expert reviewer for various research funding bodies including COST Action, EPSRC (Engineering and Physical Sciences Research Council), DAAD (German Academic Exchange Service), NSERC (Natural Sciences and Engineering Research Council of Canada), FWF (Austrian Science Fund).
Examiner of PhD dissertations, e.g., submitted to UCL, TU Berlin, University of Glasgow, Queen's University, Université Paris 1 Panthéon-Sorbonne.
Fellow of the Zukunftsbrücke programme of Mercator Stiftung, BMW Foundation and The All-China Youth Federation (since 2017).
Alumni of the Deutsche Akademische Austauschdienst.