Dr Yuhua Wang
BSc (Soochow), MSc (UCL), PhD (Sheffield)
University Teaching Associate
Project Management Associate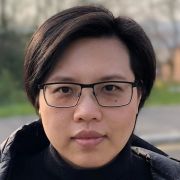 yuhua.wang@sheffield.ac.uk
Regent Court (IS)
Full contact details
Dr Yuhua Wang
Information School
Regent Court (IS)
211 Portobello
Sheffield
S1 4DP

Profile

I joined the Information School in 2016 as a doctoral student in Health Informatics on a Faculty of Social Science Doctoral Academy Scholarship. Since 2016, I contributed to the planning and delivery of a wide range of teaching activities in more than 10 modules at both Faculty and School levels. I gained Fellowship of Higher Education Academy in May 2021 and was appointed University Teaching Associate in the Information School in September 2021, immediately after my viva.

Prior to joining the University of Sheffield, I completed my MSc in Technology Management (UCL) with distinction and became a certified Project Management Associate. I worked in the banking sector for three years, shortly after completing my BMgt in Business Administration in China and Germany.

In 2022 I was appointed Interim Head of the Health Informatics Research Group.

University responsibilities

Interim Head of the Health Informatics Research Group
Research interests

My PhD (Sheffield) investigated older people's use and learning of digital technologies under the debates surrounding digital divide/digital inclusion and active and healthy ageing, with a focus on everyday life routines/practices and informal learning, sustainability in digital engagement and resilience in community-led social and digital inclusion activities (Supervisors: Dr Laura Sbaffi and Prof Peter Bath). I have developed a strong research interest in data and digitalisation in everyday life and the corresponding social, cultural, ethical, and technical (e.g., data management, information systems) challenges. I am currently working on several international and multi-disciplinary research projects that align with my research interest and my expertise in digital inclusion and mixed methodology, including

A baseline study of systems supporting postharvest food preservation amongst smallholder farmers in Tanzania
Big data and small data: developing smart communities and digital twin for social health in China

I am interested in triangulating theories and models on information-related behaviour/practice. In 2022 I was accepted to the practice theory course (Lancaster) convened by Prof Elizabeth Shove, Prof Ted Schatzki and Dr Stanley Blue, following my interest in social theories of practice and the theorisation of individual and institutional change under the waves of digitalisation.

Beyond health informatics, data and digital inclusion, I also have an interest in researching digital humanities such as popular culture in the digital domain and the management of cultural heritage data and information systems. In this vein, I have a particular interest in understanding ageing and exclusion in relation to the change and development of digital media and digital culture.
Teaching activities

I am currently contributing to the following modules across the programmes of MSc Data Science, MSc Information Systems and MSc Information Management:

INF6029 Data Analysis (Co-ordinator of practical session)
INF6027 Introduction to Data Science
INF4000 Data Visualisation
INF6110 Information Systems Modelling
INF6050 Database Design
INF6430 User-Centred Design and Human-Computer Interaction

In addition to teaching, I also supervise PGT dissertation projects with a variety of methodological approaches.
Professional activities

Membership of professional bodies

Association for Project Management
Fellow of HEA