Anas Alsuhaibani
Information School
PhD researcher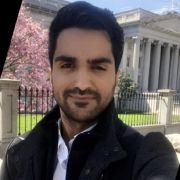 ahalsuhaibani1@sheffield.ac.uk
Regent Court (IS)
Full contact details
Anas Alsuhaibani
Information School
Regent Court (IS)
211 Portobello
Sheffield
S1 4DP

Profile

PhD project

Title: "Investigating the Role of Social Media in Supporting International Students' Transition to Study in the UK"

Supervisors

I hold a BSc in Information Systems from Imam Mohammad Ibn Saud Islamic University (IMSIU) and an MSc in Information Systems form the University of Sheffield. After receiving my bachelor degree, I worked for a year and half as academic researcher at King Abdulaziz City for Science and Technology (KACST) in Riyadh. Then, I moved to work as lecturer at Prince Sattam bin Abdulaziz University (PSAU) in Riyadh, where I was awarded a scholarship to pursue my master's and PhD degree. Currently, I am doing my Ph.D. at the Information School, University of Sheffield. My Ph.D. research revolves around international students' transition and their use of social media.

Since I started my PhD I have had the opportunity to participate as teaching assistant in a number of modules within the iSchool at Sheffield, including Research Social media, Digital Media and Society and Information Systems Modeling. I have also worked as a research associate with a team of researchers in a project aiming to improve the explanations of assessment and feedback for students and staff.
Research interests

My research interests lie in the areas of Information Science, Data Science, Computer-Mediated Communication and Researching Social Media. I also have an interest in the concept of transition and more precisely in how the international students' transition can be defined. I am also interested in knowing how humans use technology to communicate and how culture and gender influences such use.