Kevin Anslow
Postgraduate Research Support Officer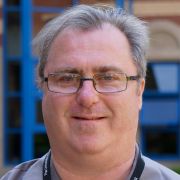 k.f.anslow@sheffield.ac.uk
Regent Court (IS)
Full contact details
Kevin Anslow
Information School
Regent Court (IS)
211 Portobello
Sheffield
S1 4DP

Profile

In my earlier career I worked in private and public sector organisations, including IT companies, local authorities, management consultancies and international investment banks. This included stretches as a video production assistant, graphic designer, desktop publisher, event manager, trainer, sub editor, copywriter, IT consultant and administrator .. and sometimes doing a combination of several at once.  I've spent most of the past 15 years in tertiary administration, working in Melbourne Universities including La Trobe, RMIT and Swinburne, where I specialised in roles supporting research communities and pre and post award research funding processes.  My role in the University of Sheffield is my first in a UK university.

Responsibilities

I provide administrative support for Postgraduate PhD study programmes in the School of Education (Mornings) and Information School (Afternoons), this includes: 

Admissions: Processing PhD applications and helping progress them through school review
Organising induction of new students
Providing advice and assistance with administrative processes for students and staff (eg, application for Leave of Absence) 
Tracking PhD milestones and help arrange confirmation reviews, submission reviews and viva examinations
Help with reporting on student engagement and other postgraduate study related matters
Supporting Postgraduate Research related committees and other activities

I am usually available on campus (for the Information School) on Monday, Wednesday and Friday afternoons from 13:30-17:00 in room 217.