Dr Helen Buckley Woods
BA (Sheffield), PGCert (Sheffield Hallam), MSc (Sheffield), EdD (Sheffield)
Postdoctoral Research Associate, Research on Research Institute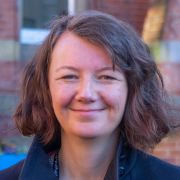 h.b.woods@sheffield.ac.uk
Regent Court (IS)
Full contact details
Dr Helen Buckley Woods
Information School
Regent Court (IS)
211 Portobello
Sheffield
S1 4DP

Profile

I have a background in library and information science, and I worked for many years as an information professional, mainly in educational institutions in the UK. I have a doctorate in higher education studies, awarded in 2019. This is a qualitative, institutional case study that explored the effects of increased demands for instrumental research and knowledge dissemination in UK universities.

Before beginning my role at RoRI I worked for ten years at Sheffield's School of Health and Related Research (ScHARR), leading information retrieval activities on numerous qualitative, quantitative and mixed-methods evidence reviews. I am an experienced teacher and trainer and a Senior Fellow of the Higher Education Academy.
Research interests

I am currently working as a Postdoctoral research associate for the Research on Research Institute (RoRI), which is an international consortium of funders, academics and technologists. The founding partners are Welcome Trust, Digital Science and The Universities of Sheffield and Leiden. I work each week across two sites: The Wellcome Trust (London) and the University of Sheffield. The best way to contact me is through my University email.