Dr Helen Buckley Woods
BA (Sheffield), PGCert (Sheffield Hallam), MSc (Sheffield), EdD (Sheffield)
Postdoctoral Research Associate, Research on Research Institute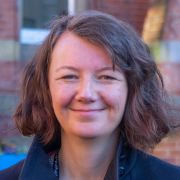 h.b.woods@sheffield.ac.uk
Regent Court (IS)
Full contact details
Dr Helen Buckley Woods
Information School
Regent Court (IS)
211 Portobello
Sheffield
S1 4DP

Profile

My background is in information science, working mostly in educational institutions in the UK. My current role is at the Research on Research Institute (RoRI), an international consortium of funders, academics, and technologists. Before this, I worked for ten years at Sheffield's School of Health and Related Research (ScHARR), leading information retrieval activities on numerous qualitative, quantitative, and mixed-methods evidence reviews. I am an experienced teacher and trainer and a Senior Fellow of the Higher Education Academy. I have a doctorate in higher education studies, awarded in 2019. 
Research interests

My broad research area is knowledge production and uses in higher education. This includes the determination of research topics and portfolios, research models (such as academic & practitioner co-production, single discipline, citizen science) and their uses, understanding & exploring different knowledge types, disciplinary knowledge practices and culture, research silencing and academic freedom. Methodologically, my expertise is in qualitative research and evidence synthesis. My research fits within a wider umbrella of 'research on research', that is research which addresses questions about research systems, culture, and knowledge production. 

My thesis focussed on disciplinary differences in knowledge production in higher education and the effects of an increased demand for instrumental research. In my current role I have investigated how research is evaluated through peer review in scholarly publishing. I have also coordinated research to investigate new initiatives in grant allocation. 
Publications

Journal articles

Conference proceedings papers

Reports

Website content

Posters

Theses / Dissertations

Working papers
Teaching interests

My teaching interests and experience lie in the study of higher education and research systems, evidence based practice and research methods. I have experience as a module leader (online & in-person formats), supervision of M level students' dissertation projects, lecturing and small group teaching for M level and undergraduate students. I have also been part of the faculty for numerous training courses, such as delivering sessions on information retrieval for qualitative evidence synthesis (on the ESQUIRE programme), and training library and information professionals (FOLIO). I have also led other professional learning activities such as journal clubs. 
Professional activities

ECR Faculty representative for the Social Sciences at the University of Sheffield.
Member of the Society for Research into Higher Education