Careers in Information Management
The Information School at the University of Sheffield is the leading school of our kind in the UK. We are Number One in the World for Library and Information Management.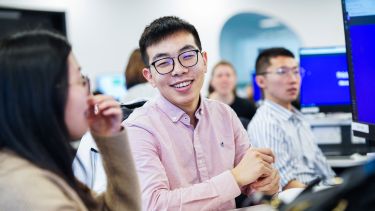 Our MSc Information Management course prepares you for a wide range of careers and the skills which you gain will equip you to work in the fast paced and evolving field of information management.
After completing the course, you'll be equipped for a career in industry or research. Our graduates have acquired positions as information managers and officers, management information analysts, business or information analysts, information governance officers and business intelligence officers.
Our graduates go on to careers including:
E-commerce manager

Digital marketer

Digital product owner

Business analyst

System analyst

IT project management

Database administrator

Information manager

Information officer

Knowledge manager

Business intelligence officer
Our modules prepare you for various careers. Here are some career pathways:
Potential pathway: Digital Business (Managing and delivering products and services on the Internet)
Possible Job titles: E-Commerce Manager, Digital Product/Service Delivery Manager, Digital Marketer, Digital Product Owner.
Related modules: Website Design and Search Engine Optimisation, Business Intelligence, Database Design, Researching Social Media
Potential pathway: Information Technology (Working with organisations to help them use information technologies to change and improve)
Possible Job titles: Business Analyst, Systems Analyst, IT Project Manager, Database Administrator, Operational Researcher
Related modules: Information Systems Modeling, Information Systems in Organisations, Information Systems Project Management, ICTs Innovation and Change, User-Centred Design and Human-Computer Interaction
Potential pathway: Information Science (Information scientists manage an organisation's information resources and make sure it's all readily available.)
Possible Job titles: Information Manager, Information Officer, Knowledge Manager, Management Information Analyst, Information Governance Officer, Business Intelligence Officer, Reporting Analyst, Information Analyst, Data Privacy Analyst
Related modules: Information and Knowledge Management, Information Retrieval: Search Engines and Digital Libraries, Information Governance and Ethics, Business Intelligence
Explore all postgraduate courses
A masters from Sheffield means in-depth knowledge, advanced skills and the confidence to achieve your ambitions.