Read more about our ethos, what makes our teaching and learning special and our research important, and what our students achieve.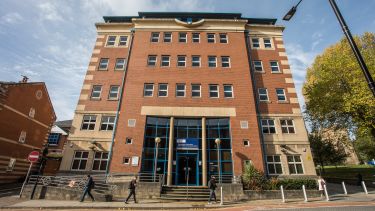 Off
The Department of Journalism Studies was launched in 1994 and within 10 years became one of the major journalism teaching and research establishments in the UK.
The University of Sheffield is a proven academic centre of excellence and the department strives to provide both theoretical and professional teaching based on the highest journalistic and academic standards. Our academic staff comprise university teachers from prestigious professional backgrounds and lecturers with distinguished reputations for their research, as well as promising early career researchers.
As one of the few Russell Group universities offering journalism degrees, we offer students a powerful and distinctive combination of practical skills training with learning based in our outstanding academic research in media freedom, journalistic law and ethics, political communication and more.
We have an excellent network of international contacts in both the media industry and the academic world, and our staff have built close ties with regional institutions and local print, broadcast and online media. We have also developed strong research and teaching links with other academic departments in the University.
We are dedicated to the highest professional and ethical standards in journalism and believe our graduates are reflective and able practitioners who will contribute to better journalism in the future.
For many years we have been the UK's only journalism department to feature in the top 5 of all three independent league tables We have achieved several number 1 rankings, including with the Times/Sunday Times in 2018, the Guardian in 2018 and 2019, and the Complete University Guide in 2020.
Taught programmes
We offer journalism education in print, radio, television and online, to undergraduates and postgraduates. Our undergraduate degree, BA Journalism Studies, is professionally accredited by both the National Council for the Training of Journalists (NCTJ) and the Professional Publishers Association (PPA).
At postgraduate level students can opt for our applied degrees, specialising in newspapers, broadcast or magazines (again, with accreditation from the NCTJ, PPA, and Broadcast Journalism Training Council). Two further degrees – in Global Journalism, and International Public and Political Communication – offer a more academic-based study focus with some practical content.
We are innovative teachers, committed to integrated, programme-level assessment (PLA) and the use of new technologies to enhance learning. Our digital newsrooms and broadcast facilities are upgraded regularly to keep pace with developments in the media industry.
We have strong industry links with major media players, which enhances our graduates' employability through work placement programmes and careers advice. Every year our students and graduates win prestigious media industry awards for their work. Graduate survey data reveals an excellent track record in the jobs market.
Our students come from around 30 countries across the world. We enjoy the creative mix of students from diverse backgrounds and are listening to and working with our BAME students to develop greater equality and inclusivity in the department.
Research
Since its inception, the department has been committed to establishing an active research programme covering a wide range of topics within the fields of journalism, mass communications, and new communications technologies.
Today much of our research can be characterised under a number of themes, as follows:
The relationships between journalism, communication and democracy
Journalism and communication history
Conflict and crisis communication
The digital communication and media environment
European and comparative media law
The department is home to two research institutes: the Centre for the Study of Journalism and History and the Centre for Freedom of the Media (CFOM). Our head of department Professor Jackie Harrison chairs CFOM and holds a UNESCO Chair in Media Freedom, Journalism Safety and the Issue of Impunity.
In 2001, we were awarded a 4 rating in our first submission to the then Research Assessment Exercise. In the 2014 REF, 72 per cent of the department's research was graded as 4* or 3*; that is, 'world-leading' (38 per cent) or 'internationally excellent' (34 per cent).
The department's research-active staff and students comprise our Communication, Media and Journalism research group. Our doctoral programme admits new postgraduate research students candidates each year and we are keen to see new research proposals which resonate with our areas of expertise above.
A world-class university – a unique student experience
Sheffield is a research university with a global reputation for excellence. We're a member of the Russell Group: one of the 24 leading UK universities for research and teaching.