Dr John Steel
BA, PhD (Sheffield)
Department of Journalism Studies
Senior Lecturer in Journalism and Political Communication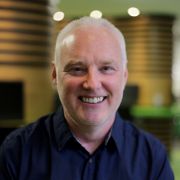 Profile

After spending a number of years in the print industry as a graphic designer and originator, John decided to study for a degree in politics at the University of Sheffield. Following his undergraduate degree, John went on to study for a PhD in political theory. His PhD focused on the role that the concept of freedom of expression played in 19th-century radical politics.

While completing this research, he took up a research post at Sheffield Hallam University focusing on the use of internet technologies in higher education. Following stints teaching politics at both Sheffield Hallam University and the University of Sheffield, John was appointed as Lecturer in Journalism Studies in February 2005 and Senior Lecturer in December 2018.
Research interests

John Steel's teaching is led by his research interests which centre around the intersection of politics, media and democratic participation. More specifically, his research is concerned with exploring the relationship between media, civil rights and freedoms, citizen activism and engagement. He has convened a wide number of modules covering issues and debates within political communication, free speech and censorship, journalism, politics and public opinion.

He is principal investigator on Defining Freedom of the Press, a major collaborative AHRC-funded project launched in June 2018. This interdisciplinary project explores the ethical and regulatory complexities of the legacy news media, digital news innovators and third sector activist organisations across Europe and the UK.

Defining Freedom of the Press: a research case study

---

Research, impact and external standing

Since completing his PhD in 2001, John has produced more than 30 publications with leading international publishers and in major peer-reviewed journals. Broadly, John's work spans political communication, media history and journalism studies. He is particularly interested in exploring historical and contemporary debates concerning democratic rights and their praxis, specifically those contestations around 'media freedom', 'free speech' and frameworks of 'censorship'. Recent work has involved an exploration and critical re-evaluation of some of the key normative democratic components of media criticism.

Recent publications include ''Making voices heard…': Index (on Censorship) as Advocacy Journalism' (2018) which examines the development of the magazine Index on Censorship as a form of advocacy journalism; ''Disruption' in UK Journalism Education? A study of meta-narratives of resilience' (2018) which examines journalism's responses to digital transformations in news media.

John is currently working on a monograph for Routledge entitled British Radicalism and Free Speech which provides a critical examination of how radical progressive movements in Britain have engaged with debates concerning freedom of speech and expression from the 17th century to the present day. He is also about to publish a volume on 'Letters to the Editor' which has been co-edited with Dr Allison Cavanagh at the University of Leeds and will be published by Palgrave.

John has received over £640,000 in grants and awards as principal investigator and co-investigator. In November 2017 he was awarded a major research grant by the Arts and Humanities Research Council (AHRC) to lead an interdisciplinary team of researchers investigating press ethics and regulation from the perspective of legacy media, digital innovators and third sector activists. The project commenced in June 2018 and draws together colleagues from the University of Sheffield, the University of Leeds and the University of Durham.

John regularly attends and presents at major national and international conferences including the International Communication Association, International Association of Media and Communication Research, Political Studies Association Media and Politics Group and the Future of Journalism conference. John has been involved in wider community industry and engagement, with extant links to a range of external partners including Article 19; Index on Censorship; Amnesty International; IPPR; Cancer Research UK; London Chamber of Commerce; Policy Exchange; Migrant Voice; and Project Censored, as well as having established contacts within Westminster and Whitehall.

John holds editorial board membership of the journals Media History; Journal of Applied Journalism and Media Studies; and Ethical Space: The International Journal of Communication Ethics. He is a regular reviewer for leading media and communication journals including the European Journal of Communication; International Journal of Press Politics; Journalism Studies; Digital Journalism; Journalism Practice; Media History; Journal of Media and Communication Studies; Journal of Applied Media Studies; Historical Research; Digital Journalism; Cambridge Journal of Education; International Journal of Media & Cultural Politics.

He also regularly reviews book proposals for leading publishers including Routledge Taylor and Francis; Palgrave; Sage; and Zed Books. In 2015 he was invited by the National Research Foundation (NRF) of South Africa to review the research output and assess the standing of a leading scholar in his area. In its documentation, the NRF states that "reviews are conducted by national and international subject experts of high academic and professional credibility and who are recognised internationally for their research contributions".
Publications

Books

Edited books

Journal articles

Chapters

Book reviews

Conference proceedings papers

Scholarly editions

Working papers

Presentations
Teaching activities

John convenes the modules JNL312 Journalism and Political Communication and JNL315 Free Speech and Censorship. He also oversees dissertation work by students on MA Global Journalism (JNL6133) and MA International Public and Political Communication (JNL6600).
Professional activities

Some of John's publications that are available for purchase:
PhD supervision

John is interested in work that enmeshes debates within political theory and the history of ideas with media and journalism studies. He is particularly interested in supervising students within the following broad areas:

Histories and theories of free speech, censorship and press freedom
Political participation, democratic theory and praxis
Political, ethical and regulatory implications of digital media
Transformations within political communication

Current and recent PhD projects under John's supervision:

'Social Media, Political Activism and Journalism in Saudi Arabia' (principal supervisor)
'Role Perceptions of War Journalists in India and Britain 1990-2010' (principal supervisor)
'Anticlericalism and secularism as a form of political communication in popular print culture' (joint supervisor)
'Liberal Sensibilities and religious 'hate speech' in China' (principal supervisor)
'Waking the Silent Majority, Democratic Deficit and Wind-farm Sitting in the UK' to be submitted August 2018 (joint supervisor)
'Social Media - Public Sphere 2.0? The uses of social media in a political dialogue through a journalistic perspective' 2018 (principal supervisor)
'The Historical Construction of the people in the Franco-Latino Caribbean Press', 2017 (principal supervisor)
'Poor Journalism: Framing Poverty and Welfare in the British Press during the age of 'Neoliberalism 1985-2015'', 2017 (principal supervisor)
'Protocols of Censorship and their application in Online Newsrooms in China', 2016 (principal supervisor)
'Towards Democratisation? Understanding University Students' Internet use in Mainland China', 2015 (principal supervisor)
'Coverage of Corruption Scandals in the Nigerian Press: A Comparative Analysis of Northern and Southern Newspapers' 2015, (principal supervisor)