Matt Robson
BSc (Manchester), MA (Hallam)
Department of Journalism Studies
University Teacher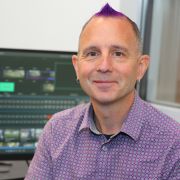 Profile

Matt's career in journalism started in 1988 when he joined BBC news and current affairs as a trainee video editor. He quickly became an editor and spent a few years working on all of the BBC's national news output, everything from Breakfast News to Newsnight. After moving to Sheffield he continued to work for the BBC as a camera person and editor on local and national news programmes for the next couple of years.

Matt spent a year spent travelling in South America but then continued working as a freelance camera person and editor for all the major British broadcasters (BBC, ITV and Sky). Later still he started his own small production company producing films for local companies and charities.

Matt began teaching at the University in September 2002, combining this with working in industry, and joined the Department of Journalism Studies full time in 2014. He has been sharing his knowledge of editing and camera work with both postgraduate and undergraduate students since then.

He has a BSc in physics from the University of Manchester and an MA in documentary film and television from Sheffield Hallam University. He is a senior fellow of the Higher Education Academy.
Teaching activities

Matt contributes to the teaching of multimedia and is module leader on JNL309 Portfolio in Broadcast Journalism. He also contributes to:

JNL231 Live News Production
JNL309 Portfolio in Broadcast Journalism
JNL6007 Writing News
JNL6028 Writing for the Media