Dr Pawel Surowiec
Department of Journalism Studies
Senior Lecturer in Public Relations and Strategic Communication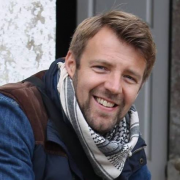 Profile

Paweł joined the University of Sheffield's Department of Journalism Studies in April 2019 as Senior Lecturer in Strategic Communication. Previously, he worked at Bournemouth University (2006–19) and acted as research fellow at the Charles University in Prague (2014–16). His work focuses on the interplay between foreign policy, media and public opinion. It particularly centres on relationships between European politics, hybrid media landscapes and the practice of propaganda.

Paweł authored Nation Branding, Public Relations and Soft Power: Corporatising Poland (2016). His second book is entitled Social Media and Politics in Central and Eastern Europe (2017). He is currently working as co-author on a third, under the working title Public Diplomacy During Times of Uncertainty.

In his research, Paweł is intrigued by questions relating to the colonisation of propaganda to new social spaces, and the reinvention of this practice, particularly in the context of diplomacy and cyberspace (eg digital diplomacy). He merges those research interests with lecturing and consultancy.

In his professional practice, Paweł engages in professional publishing for outlets such as Convergences. He also serves the academic community in the field of media and communication: in October 2016, he was elected to the executive board of the European Communication Research and Education Association (ECREA) and acts as a treasurer of this pan-European learned society.

Between 2011 and 2016, he acted as a visiting scholar at Sorbonne IV (CELSA) in Paris and at other European universities. He also gave lectures to diplomats and public diplomats in Warsaw and London, as well as strategic communicators working for the European Union (EU) and the North Atlantic Treaty Organisation (NATO).

Apart from lecturing and researching, he enjoys running, skiing and music: he is a member of the Bournemouth Athletic Club and likes to listen to Richard Wagner and Polish jazz.
Research interests

Paweł's ongoing research projects include the following.

Public Diplomacy During Times of Uncertainty (with Ilan Manor, University of Oxford): this book project focuses on the ways in which contemporary soft power statecraft is being adapted to disrupting trends in international politics. In particular, it explores the interplay between public diplomacy and the politics of uncertainly. Contemporary in focus, the book problematises key challenges faced by public diplomats and foreign policy makers.

A project problematising the contentious relationship between 'Illiberal Democracy and Media'; (co-editing a special issue for East European Politics with Václav Štětka, Loughborough University). Focusing on the region of central and eastern Europe (CEE), this multi-country analysis aims to reveal the ways in which illiberal tendencies intertwine between politics and hybrid media systems and, if at all, contribute to democratic backsliding in CEE.

A study applying the notion of counter-narrative to the analysis of public diplomacy and focusing on global reactions of citizens to Donald Trump's foreign policy orientation. The project deals with complexities of the use of social media as a means to political participation in the conduct of foreign policy.

Digital diplomacy and soft power in 'post-Brexit Europe' (in development): a comparative study of two states' statecraft and ways in which digital media technologies shape: a) strategic narratives of public diplomacy; b) institutional changes and changes to the practice of diplomacy; c) civic-ness and engagement with foreign policy issues.
Publications

Books

Journal articles

Chapters

Book reviews
Teaching activities

Pawel is convenor for the module JNL6303 Introduction to Political Communication and contributes to JNL6000 International Visual Public and Political Communication, JNL6210 Research Methods and JNL6304 Public and Political Campaigning. He also oversees dissertation work by students on MA Global Journalism (JNL6133) and MA International Public and Political Communication (JNL6600).
PhD supervision

Pawel is particularly interested in hearing from doctoral candidates who would like to develop their expertise in the following areas:

Political communication, democracy, and democratisation
Election campaigning digital politics
Soft power, public diplomacy and digital diplomacy
Strategic communication and political public relations 
Political journalism and journalistic routines

Future candidates are particularly welcome in Paweł's principal research areas.

Current PhD students

Paweł has examined doctoral theses in the field of political communication and currently supervises doctoral candidates in journalism and media studies. 

Michael Latto: Poetic documentary and representations of a place: a case study of the city symphony about Kiev
Zhihui Hu: The changing representations of Section 28 in British newspapers between 1988 and 2018