Aiman Alsaeedi
Department of Journalism Studies
PhD Student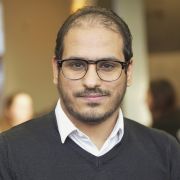 Profile

Aiman holds an MA (with merit) in Communication Studies from the University of Leeds, awarded in 2015. His masters studies focused on citizen journalism and social media. Previously Aiman earned a BA with first class honours in Mass Communications (TV and Radio) from Umm Al-Qura University, Saudi Arabia.

He has worked as news reporter and editor and has also spent time working as a teacher assistant at the Department of Media Studies at Umm Al-Qura University.
Research interests

PhD title: The integration of user-generated contents and citizen journalism within professional journalistic frameworks at the Arab news channels (draft title)

Aiman's PhD research sets out to explore the relationship between traditional and citizen journalism within Arab mainstream media, and how both could affect the practice of the other. He also aims to identify ethical issues that the mainstream media could face in using citizen journalism material, and to propose possible guidelines for handling user-generated content in the newsroom.
Professional activities

Conferences

1st Communication, Media and Journalism Research Group Conference
7th European Conference on Arts & Humanities (ECAH2019)