Jake Mason
Department of Journalism Studies
PhD Student
Postgraduate Representative
University Teacher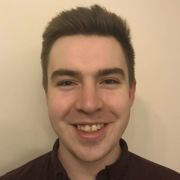 Profile

Jake began his studies with BA Modern Languages at the University of Sheffield, specialising in German, Dutch and Luxembourgish. For postgraduate study, he transferred to the University's Department of Journalism Studies to take MA International Public and Political Communication.

Alongside his PhD research, Jake maintains his links with the Department of Germanic Studies and has presented research on the performative power of strategic communication and implications for political and sociological research into Luxembourg Studies.

Jake is the PGR representative for the Department of Journalism Studies.

He also runs widening participation workshops for secondary school pupils between the ages of 14 and 18 as part of the University's outreach programme. These workshops introduce pupils to the concepts of 'fake news' and political propaganda.
Research interests

PhD title: The political economy of stabilisation operations
Teaching activities

Jake currently teaches on the following undergraduate and postgraduate modules:

JNL120 Essential Journalism
JNL233 Journalism and Political Communication
JNL6014 Ethics and Regulation
JNL6027 Journalism, Globalisation and Development
JNL6303 Introduction to Political Communication
Professional activities

Conferences

'British Influence: An integrated history of domestic and overseas UK government communications', 10th History of PR Conference, 26 June 2019
'Conceptualising stabilisation operations as a form of civil-military strategic communication', 1st Communication, Media and Journalism Research Group PGR/ECR Conference, 10 April 2019
'Syria Civil Defence and the Syrian Civil War: Understanding the Dutch government's role in the production of Anglo-American strategic communication', 12th Biennial Conference of the Association for Low Countries Studies, 30 June 2018
'Strategic communication: What does it mean for Luxembourg Studies?', Language Identities and Multimodalities, 04 May 2018, University of Sheffield
'Persecution, Minorities and Sanctions: What Does the Iraq Inquiry Tell Us About British Strategic Communication?', SLC Postgraduate Research Colloquium 2017: Memory, Minorities and Repression
Publications

Book reviews