If you're looking to undertake a research project of your own as a PhD programme with us, this page will take you through the process.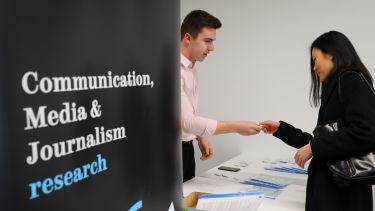 This page explains how to apply for a standard PhD in the Department of Journalism Studies, based on your own research project. Once you have received your offer you can use it to apply for competitive funding (where you compete with other offer holders to gain a scholarship).
There is often a different process for pre-funded projects, where you apply to a project which already has funding attached. To find out more see our scholarships page.
1. Check that you meet the entrance requirements

Academic requirements

First you'll need a strong masters degree (or to be working towards a masters degree at the time of application), with an overall grade of merit, from a UK institution (or equivalent from an overseas university). We ask for a minimum grade of 60% in your masters research project/dissertation.

English requirements

Next, to meet our English language requirements, you'll need either:

• a strong masters degree (or to be working towards a masters degree at the time of application), with an overall grade of merit, from a UK institution (or equivalent from an overseas university), and in your masters research project/dissertation you'll need a minimum grade of 60%

or:

• an appropriate English language qualification completed within the last two years which meets our minimum entry requirements. In most cases, students take the IELTS test – our IELTS requirements are in the table below.

| IELTS overall score | 6.5 |
| --- | --- |
| Listening | 6.0 |
| Reading | 6.0 |
| Speaking | 6.0 |
| Writing | 6.0 |

Details of other English qualifications recognised by the University can be found on the English language requirements webpage.

2. Choose a research topic and find a supervisor 

Your research topic should be something that is of interest to you, and it should be original, offering an addition to established knowledge. It should be ambitious, but also achievable within a three-year schedule. This can be a difficult balance!

Good advice can be found here:

• How to choose a thesis topic
• 5 tips for finding a dissertation topic

Occasionally, funded studentships will be available on pre-determined research topics. Find out about these.

A key aspect of doing a PhD is developing a productive relationship with a supervisor. Ideally, building rapport should start from a very early stage, and it is a good idea to contact a potential supervisor before formally applying.

Your supervisor should be someone whose research interests match your own. To find a potential supervisor, you should read through the list of supervisors in the department and identify those whose research overlaps with your own, whether thematically or methodologically.

Approaching a prospective supervisor

Introduce yourself by email, providing information about yourself and your research topic. Be specific – if possible, send them your research proposal and your CV.

Do not send emails indiscriminately to many members of staff. If the first person you approach is not available to supervise your project, they will forward your email to other members of staff.

Please note

There is no guarantee that the supervisor you want will be available or willing to supervise your project. If your proposed supervisor is interested, this does not guarantee an offer will be made, as your application is still subject to admissions checks.

If you are struggling to think of a research topic, see our list of supervision areas.

3. Write a research proposal

Your research proposal is perhaps the most important part of your application. It is a piece of written work, around 2,000 words long, which needs to address the following points.

1. Title (max 30 words)

Make sure your title is concise and reflects the aims of your research project.

2. Abstract of the intended project (max 150 words)

Summarise what the project is, and what you intend to find out using which methods. Also make sure that you state the basis for the originality of your research.

3. Rationale for the research (max 150 words)

Why is this a topic worth researching? How do you think you will make a contribution to the academic field? What is the value of your research project?

4. Literature review (max 750 words)

Show that you know what has already been written in your specific field, where the gaps are, where your research fits in and develops either a new approach or definition or furthers something already existing.

5. Research questions (max 70 words)

Please formulate the research questions as questions. Make sure that they are precise and clearly formulated.

6. Methodology (max 500 words)

You need to show that you know which methods you will use – define them by using academic literature and show why the method chosen is appropriate to answer the research questions (if you have more than one method and/or question, then clearly show which method answers which research question). You should also demonstrate an understanding of what data you will need and how you will collect it. If there are ethical issues surrounding your project, please refer to them.

7. Research plan over three years (max 100 words)

Please propose a feasible plan that shows how you will carry out your project over three years.

8. Potential non-academic impact (max 150 words)

Please outline the relevance of your research project beyond academia and where you can see benefits of your research project (and results) to society more widely. Be as specific as you can.

9. Research experience (max 200 words)

Please outline your previous research experience and publications (if any).

10. Supervisor suggestion and match (max 100 words)

Please name a potential supervisor and outline why your research project falls within their research expertise.

---

Your research proposal will be used to determine your suitability for PhD research, and to decide whether you are a good fit with potential supervisors in the department.

Please note that your research proposal will be checked using plagiarism detection software. Please follow academic conventions for quotations and cite your sources thoroughly.

Please use our Research Proposal Submission Form to send us your proposal. We will be unable to consider your application until you do.

4. Apply online  

To apply for a PhD at the Department of Journalism Studies you must complete an online application form.

You will need to include:

• your research proposal submission

• a personal statement which details why you want to study in the Department of Journalism Studies at the University of Sheffield

• two academic references; these should be written and signed on official letter-headed paper by academic staff at institutions where you have studied previously. If you have been out of education for the last two years, you may supply one academic reference, along with one from your current employer

• evidence of your qualifications, including academic transcripts

• evidence of an appropriate English language qualification

Applications submitted without these documents cannot be processed.

When should you apply?

We welcome applications at any time but recommend that you apply at least three months before your planned start date.

When can you start?

The academic year for PhD study begins on 1 October. If you are unable to start on 1 October, you can start on our alternative admissions date of 1 April.

Please note that 1 October and 1 April are the only start dates permitted.

5. What happens next?

You will receive an email confirming receipt of your application. We'll keep you informed of any developments throughout the application process.

We'll check your application to ensure that you meet the entry criteria, and that all the required documents are attached.

If you have justified your choice of supervisor, and they are available, we'll forward your application to them for consideration. If you have not suggested any supervisors, our director of postgraduate research will look over your application to identify potential supervisors.

The proposed supervisors may request revisions to your research proposal. You will be given three weeks to make these changes.

Once two supervisors have given feedback, are interested in supervising your project, and are happy with your proposal, you will be invited to interview. If the interview is successful, we'll offer you a place.

Timescale

We aim to deal with all applications promptly. A decision is usually made on applications within two months. We advise applicants to submit their PhD application at least three months before their proposed start date.

Funding

Once you have received an offer, you can use it to apply for PhD funding. The University of Sheffield scholarship competition closes in January each year, but there are a wide range of other funding opportunities available. See the links below for details.

• University of Sheffield research scholarships
• Journalism Studies scholarships
• Alternative funding sources for postgraduate study
Please note: there may be costs additional to your tuition incurred during your PhD study, depending on your project and field of work. Examples of additional costs may include travel and accommodation for fieldwork, or conference fees. Please speak to your potential supervisor if you have any questions about this.
Find out about PhD tuition fees
Our programmes of study are reviewed annually to make sure they're current and relevant. Changes may be made in response to discoveries made through our world-leading research, funding changes, professional accreditation requirements, student or employer feedback, curriculum review, staff availability and variations in student numbers.
While every effort has been made to ensure the accuracy of the information on these webpages, for the reasons detailed above, changes may need to be made to programmes of study and fees after you have applied for a place. Where these are substantial in nature, we'll inform you as soon as we can.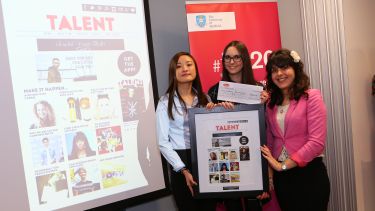 Our outstanding reputation for journalism
The Department of Journalism Studies ranks in the top 5 of all three of the UK's independent university league tables.
Find a PhD
Search for PhD opportunities at Sheffield and be part of our world-leading research.