We support and run a range of student-led legal advice clinics in the School of Law that benefit the community, whilst providing valuable real-world experience for our students.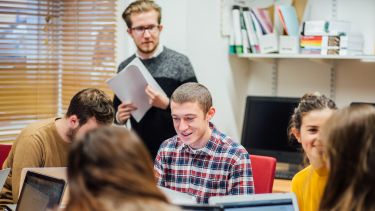 These are also known as 'pro bono' services - a Latin term meaning "for the good of the public". In the legal profession, it refers to the provision of legal services free of charge.
Since the launch of our first pro bono scheme in 2008, we have expanded to 10 schemes with over 200 students advising on legal issues. 
---
CommLaw
Students work alongside fully qualified commercial solicitors to give reliable and relevant advice and take part in various advice sessions that are offered to SMEs (small and medium-sized enterprises) by the Innovations Centre.
---
FreeLaw
FreeLaw is a student-led service offering free legal advice to the public. Working in groups students cover most areas of law, conducting interviews and undertaking the required research. The research is always overseen by a qualified solicitor to ensure the advice received is accurate and relevant.
---
Pro Bono Schemes outside of the School of Law
South Yorkshire Refugee Law and Justice Centre

South Yorkshire Refugee Law and Justice Centre is a locally led and run, non-political and non-denominational group of volunteers. Its members include lawyers, students, people experienced in the asylum field and those who are new to it. Students benefit from the SYRLJ Training Programme, with the aim of integrating practical experience of the asylum process with academic knowledge and legal skills.

Citizens Advice Sheffield

Citizens Advice Sheffield is Sheffield's leading provider of advice services and advocacy services. They help about 20,000 people a year and aim to tackle poverty and campaign for social justice. Students benefit from working alongside a large workforce of both volunteers and paid staff members, including advisers. The Citizens Advice Centre provides confidential, independent, impartial and free. 

Visit the Citizens Advice Sheffield website.

Personal Support Unit

The School works in partnership with the Personal Support Unit (PSU) at the Sheffield Combined Court Centre. The PSU provide support to unrepresented litigants, inexperienced court users, witnesses and family members. The support offered is very varied, consisting of practical information, help with filling forms and sorting papers, going in to court with litigants and taking notes of the proceedings, help around the building and providing a listening ear to people who may be in a stressful situation.

Students benefit from full PSU training and having the opportunity to build their knowledge of county court and family court procedures. It is a great opportunity to meet with members of the legal profession and help the local community.

Visit the Personal Support Unit web page

Victim Support

Victim Support is the independent charity for people affected by crime and traumatic events in England and Wales. Students benefit from working alongside specialist teams in providing individual, independent, emotional and practical help to enable people to cope and recover from the effects of crime. Victim Support also have a wealth of support and training available for any volunteer who joins them, including regular one-to-ones.

Visit the Victim Support website.

Langsett Advice and Area Resources Centre

The Langsett Advice and Area Resources Centre offers advice on a variety of areas, including benefits, employment, housing, consumer, tax, debt and much more. Students will have the opportunity to work alongside a team of volunteers and paid advisors in creating a seamless customer service.

Witness Service

The Witness Service provides a vital service offering free and independent support for witnesses in every criminal court across England and Wales. Students benefit from practical information about process, as well as emotional support to help increase confidence when giving evidence.