Dr Áine Clancy
Lecturer in Law
Deputy Director of Internationalisation (Student Recruitment) (School of Law),
Deputy Director of Employability and Enrichment Activities (School of Law)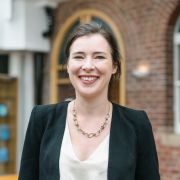 Profile

I was appointed to the role of Lecturer in Law at the University of Sheffield in September 2022. Prior to this, I researched for and wrote my PhD thesis at Queen Mary University of London under the supervision of Profs Peter Alldridge and Miriam Goldby. My thesis focuses on the legitimacy and justifiability of unexplained wealth orders (UWOs) against politically exposed persons (PEPs). While undertaking my doctoral studies, I also worked as a tutor in Contract Law at the University of Liverpool.

My research focus lies in the areas of illicitly acquired assets, grand corruption, money laundering, and white-collar crime. Issues of particular interest include anti-corruption measures introduced in response to 'panic', the jurisdictional implications of transnational crimes of corruption, the abuse of corporate vehicles as tools of corruption, and other matters specific to the investigation of financial crimes.

My work has been published in leading journals including the Modern Law Review and Criminal Law Forum.

Before entering academia, I trained as a solicitor in Ireland and practised as a lawyer in Ireland and the UK in global commercial law firms, specialising in various aspects of finance law. Prior to that, I worked as a researcher at the Law Reform Commission of Ireland.
Qualifications

BCL (University College Cork)
LLM (University College Cork)
PhD (Queen Mary University of London)
Research interests

White collar crime,
proceeds of crime,
grand corruption,
corporate crime,
financial crime
Publications

Journal articles

Chapters
Teaching activities

Undergraduate

Advanced Criminal Law & Justice,
The Law Relating to Public Companies,
Advanced Law of Contract,
Law of Obligations
Professional activities and memberships

Member of the Sheffield Institute of Corporate and Commercial Law

Qualified as a solicitor in Ireland, and England and Wales