Dr Arushi Garg
Lecturer in Criminal Law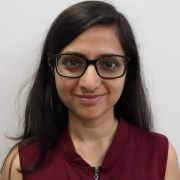 Profile

Arushi is a Lecturer in Criminal Law at the School of Law, University of Sheffield. In this role, she teaches across a broad range of law and criminology modules. Prior to this, she taught various undergraduate and postgraduate courses at the University of Oxford, most recently as a Stipendiary Lecturer in Tort Law at St Hilda's College.

Arushi read for the DPhil in Law at Hertford College (Oxford) where she was enrolled as a Mann Senior Scholar. Her thesis deployed postcolonial feminist theory to produce a socio-legal analysis of factors associated with acquittal and conviction in rape prosecutions in Delhi. Before undertaking doctoral research, Arushi completed the MPhil and BCL (Dist. in Criminal Justice) at Magdalen College (Oxford) as a Rhodes Scholar.

During her time at Oxford, Arushi led and participated in many high-impact projects as Deputy Chairperson of Oxford Pro Bono Publico, the pro bono research wing of the Oxford Law Faculty. She also facilitated conversations among academics, policy-makers, stakeholders and students as an Editor for the Oxford Human Rights Hub, and as the founding convenor of the South Asian Law Discussion Group.

Arushi is on the editorial board of the Indian Law Review. She has also acted as a peer reviewer for several reputed international journals, including the International Review of Victimology and the European Journal of Legal Studies.
Qualifications

DPhil, University of Oxford
MPhil, University of Oxford
BCL, University of Oxford
BA-LLB (Hons), NALSAR University of Law
Research interests

Arushi's research lies at the intersection of criminal law and criminology. Her research interests include gender-based violence, sexual offending, feminist theory, postcolonial criminology, victims and qualitative research methods.

Member of the Centre for Criminological Research (CCR)
Publications
Research group

Areas of research supervision

Gender-based violence
Sexual violence
Postcolonial feminism
Feminist theory
Intersectionality theory
Criminal law
Criminology
Grants

| Title/Description | Awarding Body | People Involved | Dates | Amounts |
| --- | --- | --- | --- | --- |
| Mann Senior Scholarship to complete project titled 'Understanding Rape Adjudication in Delhi Trial Courts' | Hertford College, Oxford | Arushi Garg | 1 October 2017 to 30 September 2019 | £10,000 |
| Intersectional Conversations | Magdalen College, Oxford | Arushi Garg, Roxana Willis, Jonathan Herring | 11 July 2017 to 28 September 2017 | £1,000 |
| Rhodes Scholarship to complete postgraduate degrees, including doctoral project titled 'Understanding Rape Adjudication in Delhi Trial Courts' | The Rhodes Trust | Arushi Garg | October 2013 - September 2017 | £11,6582 |
Teaching interests

Arushi encourages students to examine not just the formal scope of laws, but also their underlying assumptions. She is keen for her students to explore the manner in which laws are interpreted and enforced through the legal system. She is able to use her research expertise in criminal law and criminology – especially on issues of gender-based violence – to inform her teaching on the modules listed below.
Teaching activities

Undergraduate

LAW133 - Contemporary Issues in Law and Justice
LAW134 - WINS1 Law School Without It No Success
LAW135 - Criminal Law and Justice
LAW208 - Advanced Criminal Law and Justice
LAW307/232 - Criminal Evidence
LAW3047 - Dissertation Preparation (BA Criminology)
LAW3048 - Dissertation (BA Criminology)
LAW3052 - Sexual Offending and Sex Offenders

Postgraduate

LAW6923 - Gender & Violence
Professional activities

Member, Asian Law & Society Association (2020 onwards)
Honourable Mention (finalist), Association of British Turkish Academics Doctoral Research Awards (2019)
Peer Reviewer: International Review of Victimology (2019); Liverpool Law Review (2019); Oxford University Comparative Law Forum (2019); European Journal of Legal Studies (2017); NALSAR Student Law Review (2016)
Member, Socio-Legal Studies Association (2018 onwards)
Invited Participant, Round Table on 'Neither Confirm Nor Deny (NCND)' Procedures, organised by Oxford Pro Bono Publico and JUSTICE at the Bonavero Institute of Human Rights, Mansfield College, University of Oxford (20 November 2017)
Deputy Chairperson, Oxford Pro Bono Publico (2014 - 2015)

Editorial experience

Editor, Indian Law Review (2020 onwards)
Assistant Editor, Indian Law Review (2017)
Editor, Oxford Human Rights Hub (2015)
Associate Editor, Oxford University Commonwealth Law Journal (2013 - 2014)
Content Editor, Environment Law and Practice Review (2012 - 2013)

Recent invited papers and keynote lectures

Arushi Garg, 'Hostile' Victim -Witnesses, Hostile Courts: Understanding Acquittals in Rape Cases in Delhi, paper presented at the Global Criminal Justice Early Careers Conference, the Centre for Criminology (Oxford, 29 June 2018)
Arushi Garg, Judicial Constructions of 'Deception', 'Delay' and 'Consent': A Socio-Legal Analysis of Promise to Marry Cases in India, paper presented at the Annual Conference of the Socio-Legal Studies Association (University of Bristol Law School, 29 March 2018)
Arushi Garg, Consent, Conjugality and Crime in India: Rape Based on 'False' Promise to Marry, paper presented at the 55th Annual Meeting of the Academy of Criminal Justice Sciences: So What? Understanding What It All Means (New Orleans, 17 February 2018)
Arushi Garg, Sexual Consent and Deceptive Promises of Marriage: A Snapshot from Delhi, paper presented at Rhodes House Research Mingle (Oxford, 31 October 2017)