Dr Brian Christopher Jones
Lecturer in Law
Director of Internationalisation
law-and-democracy.com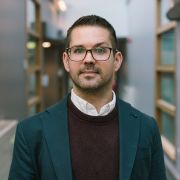 Profile

I joined Sheffield in January 2020, after holding lecturer positions at the University of Dundee (2017-19) and Liverpool Hope University (2015-16). Before this, I was a postdoctoral fellow in the Law Department at Academia Sinica in Taipei, Taiwan (2012-2015). Currently I am Director of Internationalisation at the Law School, and also serve as an Executive Committee Member for the Society of Legal Scholars (SLS).

My research primarily focuses on public law, touching on aspects of comparative constitutional law, constitutional theory, and law & politics. I've published in high quality journals from around the world, such as: International Journal of Constitutional Law, Public Law, Stanford Law & Policy Review, Legal Studies, Parliamentary Affairs, Statute Law Review, King's Law Journal, Wisconsin Law Review, and Hong Kong Law Journal, amongst others.

My 2020 monograph, Constitutional Idolatry and Democracy: Challenging the Infatuation with Writtenness (Edward Elgar, 2020), received many positive reviews. Professor David Feldman (Cambridge) classified it as 'a thought-provoking book', noting that, 'every public lawyer and student of public law would benefit from reading it to test their assumptions'. And Professor Sandy Levinson (Texas) said, 'I can't imagine a better book to discuss in a seminar, whether of students or senior academics'. I've also edited two book collections: Law and Politics of the Taiwan Sunflower and Hong Kong Umbrella Movements (Routledge, 2017) and Democracy and Rule of Law in China's Shadow (Hart, 2021).

My work has been cited by former President of the UK Supreme Court, Brenda Hale, in addition to media outlets such as: the New York Times, the Economist and the Wall St. Journal. I've also appeared on BBC Breakfast and BBC Radio to discuss various aspects of my research.
Qualifications

PhD (Law), University of Stirling
MA (Socio-legal studies), George Mason University
BA, University of Missouri-Columbia
Research interests

Public Law
Comparative Constitutional Law
Constitutional Theory
Judicial Review
Socio-Legal Studies
Law & Politics
Publications

Books

Journal articles

Chapters
Teaching interests

I highly value and thoroughly enjoy teaching, and consider it of equal importance to producing research outputs. I've been a Fellow in the Higher Education Academy (FHEA) since December 2016. One of the joys of being in a lecturer's role is being able to interact with bright and creative individuals, and also witness the myriad of impressive things they go on to achieve after graduation. I strive to ensure that students are critical thinkers, and can express themselves well both in written form and orally.
Teaching activities

The module that I teach are:

LAW139: Public Law in the UK and EU
LAW206: Advanced Administrative Law
LAW207: Advanced Constitutional Law
LAW31008: Comparative Public Law