Dr Callum Musto
School of Law
Lecturer in International Trade Law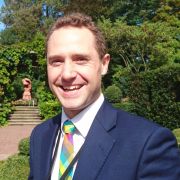 c.musto@sheffield.ac.uk
AF23A, Bartolomé House
Full contact details
Dr Callum Musto
School of Law
AF23A
Bartolomé House
Winter Street
Sheffield
S3 7ND

Profile

I joined the School of Law as Lecturer in September 2020. Before coming to Sheffield, I taught and worked toward my PhD at the London School of Economics and Political Science. In 2017/18 I was Judicial Fellow to His Excellency Judge Giorgio Gaja at the International Court of Justice in the Hague.

I have taught public international law and EU law at the LSE, public international law at the University of Oxford, EU law at the University of Buckingham, and public law and international law of the sea at the Australian National University.

I am admitted as a Lawyer in the Supreme Court of the Australian Capital Territory and previously worked in the Australian federal court system. I have been involved in numerous projects with the British Institute of International and Comparative Law, the British Institute of International Affairs (Chatham House), and Oxford Pro Bono Publico.
Qualifications

PhD, London School of Economics
MPhil, BCL (Dist), University of Oxford
GDLP, LLB (Hons I) / BA (Int'l Rel, Hist), Australian National University
Lawyer, Supreme Court of the Australian Capital Territory
Research interests

As a generalist public international lawyer, my interests and expertise span a range of topics, including sources of international law, treaty interpretation, international dispute settlement, environmental law, and the law of the sea.

My research currently centres on topics in international economic law, particularly international trade law and international law concerning foreign investment. I am particularly interested in the capacity of existing legal frameworks to facilitate social and environmental justice.

My doctoral project addressed approaches to rule ascertainment and interpretation in international investment arbitration, States' regulatory powers, and the reconceptualization of investment law as a form of 'international public law'.

My Areas of Research Supervision include:

Sources of international law and rule ascertainment
Interpretation in international law
State jurisdiction and immunities
International legal personality and State responsibility
International dispute settlement
International investment law
International trade law
International law of the sea
International environmental law
Publications

Journal articles

Chapters

Reports

Website content
Research group

Sheffield Centre for International and European Law (SCIEL)
Sheffield Institute of Corporate and Commercial Law (SICCL)
Teaching interests

International law is a fascinating, challenging, and incredibly diverse field.

My teaching strategy is built around student engagement, active participation, and problem-based learning. I encourage my students to understand how the law operates in theory, and how it is used and operates in practice, and equip them with the knowledge and tools to subject the law and legal processes to critical reflection.

I often draw on my research and my practical experience in international dispute settlement when designing activities — encouraging my students to assess the causes of, and find solutions for, contemporary challenges in international affairs.

I am committed to helping to ensure the School remains an inclusive and supportive learning environment and to do my upmost to support my students during their time at Sheffield.
Teaching activities

Undergraduate

LAW323 International Trade Law (Convenor)
LAW215 Foundations of International Law
LAW333 Advanced Issues in International Law
LAW134 Core Legal and Study Skills (CLASS)

Postgraduate

LAW6159 Trade Remedies in WTO Law (Convener)
LAW699 International Law of the Sea (Convener)
International Law and the Protection of Foreign Investment (Co-convener)
LAW60053 WTO Law: Foundations, Institutions and Challenges
LAW6179 Core Issues in International Dispute Settlement
Professional activities

Member:

British Branch, International Law Association
Society of Legal Scholars
European Society of International Law
Society of International Economic Law

Co-editor, British Yearbook of International Law, 'UK Materials on International Law' (2016-)