Dr Konstantina Bania
Lecturer in Law
Deputy Director, SICCL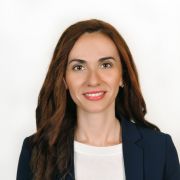 Profile

Dr. Konstantina Bania is an expert in competition law and technology/media law. Prior to joining the University of Sheffield, Konstantina was senior counsel at the European Broadcasting Union where she led the workstreams on competition law and online platform regulation. In the past, Konstantina was a post-doctoral researcher at the Centre for Media Pluralism and Media Freedom of the European University Institute where she worked on the implementation of the Media Pluralism Monitor.

In 2020, she was appointed to a scientific council to advise the Greek government on data policy issues. In 2017, the Academic Society for Competition Law awarded Konstantina the 'Best Paper Prize' for her piece entitled 'The Role of Consumer Data in the Enforcement of EU Competition Law'. Konstantina received her PhD from the European University Institute and in 2016 she won the Concurrences Thesis award, an annual Europe-wide competition that is aimed at selecting the most innovative PhD dissertation in the field of law and economics. Konstantina has received research grants, prizes and fellowships from numerous institutions, including the Fulbright Commission, New York University, Fundação Getulio Vargas, the European University Institute, the Competition Law Scholars Forum, the Greek Scholarships Foundation, and the Institute for European Studies.

She is a qualified lawyer (called to the Bar since 2008) and she has been advising entities active in digital markets on a wide range of competition and regulatory matters. She has completed a blue book traineeship at DG Competition (State aids, media & telecommunications).
Qualifications

PhD, European University Institute
LLM. European University Institute
LLM. (Free University of Brussels)
LLB. (Aristotle University of Thessaloniki)
Research interests

Competition Law Enforcement in Digital Markets
Platform Regulation (broadly defined)
Media Law
Research group

Competition Law Enforcement in Digital Markets
Platform Regulation (broadly defined)
Media Law
Grants

Title/Description: Post-doctoral Fulbright-Schuman Grant (not taken)

Awarding Body: Fulbright Commission
Dates: AY 2016 - 2017
Amount (EUR): 29,000

---

Title/Description: FGV Post-doctoral Grant  

Awarding Body: Getulio Vargas Foundation
Dates: AY 2015 - 2016    
Amount (R$): 36,000

---

Title/Description: Doctoral Grant

Awarding Body: Greek Scholarships Foundation & European University Institute
Dates: 2010 - 2014
Amount (CHF): 12,000
Teaching interests

I teach in my own areas of expertise, namely competition law and digital regulation. As a result, I deliver research-led teaching that provides students an insight into the emerging policy and regulatory trends in these fields.

My teaching strategy primarily entails the use of methods and tools that strengthen the students' critical and analytical skills.

I believe in the importance of activating student prior knowledge (e.g. by asking students to analyse and reflect upon the news concerning a case we will discuss in class) whereas during the lecture I always use numerous examples from everyday life to make sure that the students will approach with enthusiasm the topics I teach.
 
Teaching activities

The modules I teach are:

Undergraduate

Postgraduate

Online Platform Regulation
Professional activities

Professional Memberships:

Member of the Academic Society for Competition Law (ASCOLA).
Member of the Internet Society (Switzerland Chapter).
Called to the Bar of Thessaloniki (GR) since 2008.


Recent Appointments:

2021: Appointed by the Hellenic Competition Commission as Scientific Advisor for the purposes of the E-Commerce Sector Inquiry;
2020: Appointed by the Greek government as Member of the Scientific Council on Data and AI Policy

Deputy Director, SICCL
Extramural Fellow, Tilec.