Dr Sejal Parmar
Lecturer in Law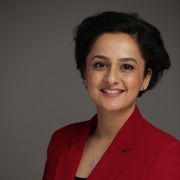 sejal.parmar@sheffield.ac.uk
Bartolomé House
Full contact details
Dr Sejal Parmar
School of Law
Bartolomé House
Winter Street
Sheffield
S3 7ND

Profile

Sejal Parmar is Lecturer at the School of Law and a fellow at the Centre for Freedom of the Media at the University of Sheffield. Her main field of research, policy engagement and teaching is international human rights law, with a particular focus on freedom of expression.

Parmar was previously an Assistant Professor at the Department of Legal Studies, a core faculty member of the Center for Media, Data and Society (CMDS), and a Visiting Professor at the School of Public Policy at the Central European University in Budapest and then Vienna. Before that, she worked as Senior Adviser to the Organization for Security and Co-operation in Europe (OSCE) Representative on Freedom of the Media (on secondment from the now UK Foreign, Development and Commonwealth Office), and as Senior Legal Officer at ARTICLE 19 at its global headquarters in London.

Parmar has published broadly in the field of international human rights law and is currently writing a monograph on Freedom of Expression Under Pressure under contract with Cambridge University Press. She is an Associate Editor of the International Journal of Human Rights. Alongside her academic work, she regularly acts as a consultant and legal expert for a range of intergovernmental and non-governmental organisations. During 2020, she has worked as a consultant for the UN Office on Genocide Prevention and the Responsibility to Protect to develop the Detailed Guidance on the implementation of the UN Strategy and Action Plan on Hate Speech and the Guidance Note on Addressing and Countering COVID-19 Related Hate Speech. She has been appointed by the Council of Europe Secretary-General to serve as an independent member of the Council of Europe Committee of Experts on Combating Hate Speech (ADI/MSI-DIS).

Parmar has taught courses on international and regional human rights law at Queen Mary, University of London and the University of Edinburgh. She has also been an EU-US Fulbright Scholar and Emile Noël Fellow at New York University School of Law, a Marie Curie Fellow at the Amsterdam Centre for International Law and a visiting scholar at the University of Wisconsin-Madison. She was awarded her LLB (hons) from the LSE and her PhD in Law from the European University Institute, and has been called to the Bar of England and Wales.

At the School of Law, Parmar is Deputy Director of the Sheffield Centre for International and European Law, Deputy Director of Research (Impact), and an Associate Member, Equality, Diversity and Inclusivity Committee.
Qualifications

LLB Law (hons), London School of Economics and Political Science
PhD Law, European University Institute, Florence
Called to Bar of England and Wales (Inner Temple)
Research interests

International human rights law
The United Nations human rights system
European human rights law
Freedom of expression
Media freedom
Human rights advocacy
Human rights in a digital age
Publications

Journal articles

Chapters
Research group

Member, Sheffield Centre for International and European Law
Fellow, Centre for Freedom of the Media, School of Journalism Studies  
Teaching interests

International human rights law
The United Nations human rights system
European human rights law
Freedom of expression
Media freedom
Human rights advocacy
Human rights in a digital age
Teaching activities

Undergraduate 

International Human Rights Law (Convenor)

Postgraduate 

Freedom of Expression in a Digital Age (Convenor)
Professional activities

Independent Member, Committee of Experts on Combating Hate Speech, Council of Europe (ADI/MSI-DIS)
Consultant, United Nations Office on Genocide Prevention and the Responsibility to Protect (commissioned to draft Detailed Guidance on the implementation of the UN Strategy and Plan of Action on Hate Speech for UN field presences, and the Guidance Note on COVID-19 related hate speech)
Visiting Professor, Department of Legal Studies, Central European University
Fellow, Center for Media, Data and Society (CMDS), Central European University
Associate Editor, International Journal of Human Rights (2015 – present)

Recent Invited Papers and Keynote Lectures

"What can regulators and digital platforms learn from the way in which freedom of expression issues are dealt with in Europe?" at panel on "European approaches to hate speech as an influence on the policies of digital platforms" at Chatham House roundtable on "Addressing Hate Speech and Disinformation Online: European Perspectives on Freedom of Expression", Zoom, 21 – 22 July 2020
"The (In-) Effectiveness of International Law in Protecting Journalism" at panel at Deutsche Welle media law session on "Journalism in International Law – Protected or Defenceless?", Berlin, 11 December 2019
"The International Human Rights Framework on Protecting Minorities from 'Hate Speech' in the Digital Age" at "Minority Identity in the Digital Age", European Centre for Minority Issues workshop, Flensburg, 12 – 13 December 2019
"Guarding the Guardians? The evolving role of the international human rights system in protecting journalists and the media" at International Society of Public Law 2019 Annual Conference on "Public Law in Times of Change?", Pontifical Catholic University of Chile, Santiago, 1 – 3 July 2019 and at International Journalism Week, University of Sheffield, 11 November 2019
"The Legal Framework for Addressing 'Hate Speech' in Europe", keynote lecture at "Addressing 'hate speech' in the media: the role of regulatory authorities and the judiciary" organised by the Council of Europe, Zagreb, Croatia, 6 – 7 November 2018
"International standards on protecting freedom of expression and countering violent extremism online" at VOX-POL (voxpol.eu) and Berkman Klein Center workshop, Harvard Law School, 23 – 24 October 2017