Professor Tamara Hervey
School of Law
Jean Monnet Professor of European Union Law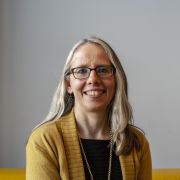 Profile

I studied at Glasgow and Sheffield, and held academic posts at Durham, Manchester and Nottingham Law Schools, before joining Sheffield in 2007. I enjoy integrating research with teaching and learning, and one of the things I particularly like about being a Professor is working with students on research projects (both mine and theirs).
Qualifications

MFPH 
PFHEA
FAcSS
PhD, University of Sheffield
LLB (Hons), University of Glasgow
Research interests

I am currently working in three broad areas:

Transnational, global and comparative health law;
Equality and Diversity; and
Legal Education

I am Principal Investigator of Health Governance after Brexit, an ERSC-funded project that investigates the effects of Brexit on health and the NHS and compares the views of legal and policy experts with those of 'ordinary people' in towns in Northern Ireland and the north of England. We want to know what post-Brexit NHS people will regard as legitimate, and who should be held accountable for delivering that.

I am collaborating with UK, EU and North American - based scholars, policy-makers, practitioners, across disciplines. I am one of the Co-investigators on the Jean Monnet network on EU health law and policy in comparative contexts, with Katherine Fierlbeck (Dalhousie). I am working on patient and professional autonomy, human rights, and trans-national law on cross-border trade, with Laura Robinson (student intern), Anniek de Ruijter (Amsterdam), Mary Ziegler (Florida State) and Rebecca Gomperts ('Women on Web'). David Orentlicher (Las Vegas) and I are working on a major project on comparative health law, to be published by OUP.

Following the 23 June 2016 referendum, I am contributing to understanding the UK's future legal relationships with the EU, in particular its implications for health law and policy, both within the UK and within the remainder of the EU. I served as Specialist Advisor to the House of Lords Inquiry on Crossborder Care after Brexit, and I am retained as a Specialis Adviser to the House of Commons Health and Social Care Committee. My take on EU health law's history and legacy appears in Stanton, et al, eds, Pioneering Healthcare Law: Essays in Honour of Margaret Brazier (Routledge, 2016).

I'm interested in several dimensions of equality and diversity. I worked with Bryan Coleman (Director Sheffield Disability Support), Harriet Cameron, (specialist in specific learning difficulties), Sabrina Rahman (student intern) on the Equality Act's 'reasonable adjustments' duties of HE institutions. I ran a multi-faceted project on Equality and Diversity in Legal Education, including collaboration with the Legal Education Research Network (LERN). This project involved co-producing both learning & teaching materials and research with several postgraduate and undergraduate students,.

I have published on internationalisation and legal education; and on clinical legal education. I ran a project on the effects of Brexit on legal education, including two workshops, and a special issue of the Journal The Law Teacher.
Publications

Books

Edited books

Journal articles

Chapters

Book reviews

Working papers

Other
Research group

Areas of research supervision

European Union Law
Health Law and policy in trans-national contexts
Discrimination Law and social rights
Grants

Title/Description
Awarding Body
People Involved
Dates
Amounts
Health Law Outside the EU: Immediate, Intermediate and Long term Impacts
ESRC
Jean McHale (PI, Birmingham); Mark Flear (Co-I, QUB); Tamara Hervey (Co-I, Sheffield)
1 May 2017 - 1 November 2018
    £209,989.25
Brexit and the (Northern) Law School
Society of Legal Scholars
Michael Dougan (York); Tamara Hervey (Sheffield); Charlotte O'Brien (York)
June 2017
£750.00
Health and Governance after Brexit
ESRC
Tamara Hervey Mark Flear (QUB) Matthew Wood (Politics) Ivanka Antova (QUB)
2019-2021
£556,603.00
 EU Health Law and Policy Jean Monnet Network grant
European Commission
Principal Investigator: Katherine Fierlbeck, Dalhousie, Canada, Tamara Hervey (Sheffield)
2017-2020
 (€300,000 (c£255 000); c€62,500 (c£55 250) attributed to Sheffield)

 
Teaching interests

I have taught in the areas in which I research for over 25 years. In modules and programmes that I have developed, students learn from the latest research, some of which is my own. For instance Advanced EU Law  includes work I have published on the EU's future relationship with the UK.

An example of my teaching-led research came from supervising PhD and MA/LLM students. Noting that law students are often uncertain about the theory and methods that inform their research projects, I developed and delivered with colleagues a workshop for students to build their confidence in preparing their dissertations, and a module on Legal Research Methods for PhD students. From these, a successful AHRC application led to two regional workshops and a book Research Methodologies in EU and International Law (Hart, 2011).

I also integrate research with the undergraduate curriculum. I regularly work with one or more (paid) student interns on my research. Recent student work has supported charities such as Cancer Research UK, as well as creating a blog on comparative health law and database of health law researchers across two continents. Collaborative student work for Kidney Care UK was chosen to be showcased at the Houses of Parliament. Collaborative student work on clinical legal education was published in the inaugural issue of the European Journal of Legal Education. I have inspired student inquiry (leading to sole or co-authored publications) through successful applications for undergraduate summer internships since 2004, for example, Laura Robinson's prize-winning project on women's rights.
Teaching activities

I teach a range of modules reflecting my expertise in legal systems and method, European Union law, comparative law, and legal research methods.
Professional activities

Honorary Member of the Faculty of Public Health 2019-
Principal Fellow HEA 2016-
Fellow, Academy of Social Sciences 2012-
University of Sheffield Senate Award for sustained excellence in learning and teaching 2011
Member of Advisory Editorial Board of Health Economics, Policy and Law 2005-Associate Editor 2016-

Recent Invited Papers and Keynote Lectures

'Health "Brexternalities": The Brexit effect on health and healthcare outside the EU', for Faculty of Law, University of Amsterdam, 18 February 2020
 'Patients' rights post-Brexit' staff seminar for Cambridge Centre for European Legal Studies, University of Cambridge, 30 October 2019
'Biobanking, data protection and Brexit' for The Health of the Future: Perspectives and New Challenges of Health Law Bologna, Italy, 18-19 October 2019
'Lessons from Brexit: internal reflections' for Society of Legal Scholars Annual Conference University of Central Lancashire, 4 September 2019
'Brexit and health law: disruption and disparities' for Healthcare disparities, disruptive healthcare technologies and the patient in Europe, University of Manchester, 12-15 June 2019 https://www.law.manchester.ac.uk/connect/events/healthcare-disparities/
'Health "Brexternalities": The Brexit effect on health and healthcare outside the EU', for Jean Monnet network workshop, Copenhagen, Denmark, 10 June 2019
'Health "Brexternalities": The Brexit effect on health and healthcare outside the EU', for inaugural Northern/Ireland Health Law and Ethics Network, Royal College of Surgeons, Dublin 30 May 2019
'Inter-professional education: learning from other disciplines', with Steve Walsh (University of Newcastle School of Education) and James Field (University of Sheffield Dental School), for Shaping the Future of Dental Education conference hosted by Association for Dental Education in Europe and American Dental Education Association, Brescia, Italy, 25-27 April 2019
Roundtable panellist on 'Brexit, Law and Society' for Socio-Legal Studies Association Annual Conference Leeds 3-5 April 2019
'EU law protections for non-ideal weight discrimination?' for The European Union as Protector and Promoter of Equality, Saarland University, Germany 28-30 March 2019
'Brexit and Health Law', Centre for Health Law, Policy and Ethics, University of Ottawa, 7 March 2019