Centre for Professional Legal Education
The Centre for Professional Legal Education (CPLE) is a leading provider of professional legal education and training within the School of Law.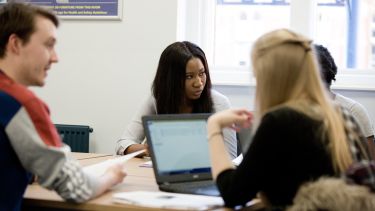 Uniquely among English Russell Group law schools, we offer the opportunity for you to complete both the academic and vocational stages of qualifying as a solicitor. 
Whatever the stage of your career, the CPLE offers a range of quality courses designed and delivered by experienced practitioners to help you succeed in your legal training.
Qualify as a solicitor
We are proud to be the only Russell Group University in England to offer the MA in Legal Practice (Legal Practice Course), which is validated by the Solicitor's Regulation Authority (SRA). Students with a qualifying law degree can complete the MA in Legal Practice to become a qualified solicitor in England and Wales under the current system.
Convert your degree to law
If you have a degree or equivalent in a non-law subject and want to enter the legal profession, you can study the Graduate Diploma in Law (GDL) or the MA Law and "convert" to law. Successful completion of these programmes will lead on to the next stage of professional legal training; the Legal Practice Course or the Bar Professional Training Course.
Our courses
---
Real world experience

We provide learning opportunities for you beyond the classroom to develop transferable skills and improve your employability.

Pro bono
Our FreeLaw Legal Advice Clinic is one of our prestigious pro bono schemes, providing free legal advice to members of the public and to local charities.

This is a great way to gain valuable hands-on work experience in a professional environment, honing your legal skills and working under the supervision and guidance of practicing solicitors.

Our flagship legal clinic is what attracts many of our students to Sheffield, all looking to enhance their CVs in a competitive graduate job market.

Mooting
The School boasts its own Moot Court where you can practice mooting with your peers. For employers, mooting demonstrates your interest and competency as an advocate.

It can be nerve-wracking, so we have plenty of support available including skills sessions on mooting, debating and negotiation.

You could end up mooting in national or even international competitions, meeting members of the judiciary and have the chance to win mini-pupillages.

Dedicated careers advice

In addition to The University of Sheffield's careers service, we offer our students in-house specialist careers advice from a qualified solicitor, as well as running a regular programme of employability and skills events, which give you access to professional, first hand advice to help you choose and prepare for a successful career.

The annual Legal Fair, held on campus, allows you access to a wide variety of law firms and other legal employers to present your CV and gain advice on applying for jobs and training contracts.

Commercial Awareness Certificate

The Commercial Awareness Certificate is offered as part of the Employability & Skills Initiative. Commercial awareness is an essential skill that allows all lawyers to better understand and thrive within any business environment. This certificate incorporates a series of workshops designed for those who are interested in developing the skill of legal commercial awareness, both for the benefit of academic study and to assist in gaining employment.

Meet the team 

The Centre for Professional Legal Education is led by:
MA in Legal Practice (Legal Practice Course) course details
For further details about a MA in Legal Practice (Legal Practice Course) view the complete structures for full-time and part-time courses.