International and European Law Events by SCIEL
We host regular public lectures, seminars, conferences and workshops on major issues in International and European Law.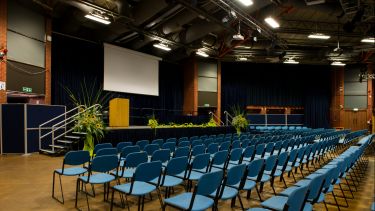 All our events are open to the public and everyone is welcome. 
ILA British Branch Regional Seminar Series
Annually, the International Law Association (British Branch) hosts a series of regional seminars which take place in Cardiff, Edinburgh, Oxford, London and Sheffield. These seminars are intended to broaden and sustain interest in private and public international law within United Kingdom.
Our seminars are open to anyone interested in international law. If you are a student or academic from the University of Sheffield or another institution you are welcome to attend and take part.
The seminar series is co-ordinated by Dr Russell Buchan.
---
Current ILA Series
The current ILA series will be announced in due course. Please check back here for further details.
---
Upcoming Seminar Series 2019/20
1) 'Rights of Man, Human Rights and Rights of the Governed: An Analysis of the Production of Rights in Michel Foucault's Thought', Professor Marcelo Raffin (University of Buenos Aires): Wednesday 16th October 2019 - Bartolome House, room EG03
This lecture will present an analysis of the critical distinction held by Michel Foucault between "rights of Man/human rights" ("droits de l'homme") and "rights of the governed" ("droits des gouvernés") in order to examine the potentiality and the scope of human rights in the present political arena from a Foucauldian perspective. More specifically, it will develop the distinction between both notions following the Foucauldian position concerning politics and the production of rights, strongly marked in his thought, by the notion of "new right" ("nouveau droit"), as a strategy of resistance and as a "practice of freedom".
2) 'Poland's Constitutional Breakdown', Professor Wojciech Sadurski (University of Sydney): Friday 1st November 2019 - Bartolome House, Moot Court
The speed and depth of anti-democratic changes after the double electoral victory of the Law and Justice Party (presidential and parliamentary) in 2015 took many observers by surprise, as Poland had been widely regarded as an example of a successful "transitional democracy" in the quarter century preceding 2015. The talk by Wojciech Sadurski, based on his recently published book POLAND'S CONSTITUTUONAL BREAKDOWN (Oxford University Press 2019) will attempt to provide answers to three major questions triggered by Poland's anti-constitutional breakdown: what exactly has happened, why it has happened, and what are the prospects of a return to liberal democracy? These answers will be formulated against the backdrop of current worldwide trends towards populism, authoritarianism, and what is sometimes called "illiberal democracy".
3) Title TBC, Dr Juan Mayoral Diaz (ICourts University of Copenhagen): Thursday 21st November - Bartolome House, Moot Court
4) John G. Merrills Memorial Conference: 'The Changing Character of International Dispute Settlement: Challenges and Prospects' (SLS Sponsored Event)
5) Dr Marco Longobardo (University of Westminster), 'Due Diligence in International Humanitarian Law', 12 February 2020
6) Dr Massimo Lando (International Court of Justice), Title: TBC, 6 May 2020
7) Professor Joanne Scott (European University Institute), Title: TBC, 12 May 2020. SCIEL Annual James Muiruri Lecture
A world top-100 university
We're a world top-100 university renowned for the excellence, impact and distinctiveness of our research-led learning and teaching.