International and European Law Events by SCIEL
We host regular public lectures, seminars, conferences and workshops on major issues in International and European Law.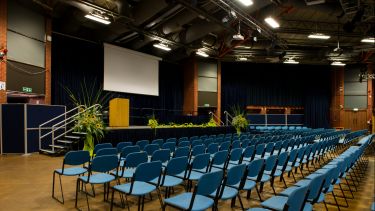 All our events are open to the public and everyone is welcome. Please register your attendance in advance using the relevant booking link. If you have any questions about our events please email us at law-events@sheffield.ac.uk
Upcoming Events 2022:
SCIEL ILA Regional Seminar Series with Professor Lavanya Rajamani, University of Oxford
Presentation title: 'The evolution of the international climate change regime'
Abstract: In this presentation, Professor Rajamani reflects on how the international climate change regime is evolving. She considers to what extent the logic of the (hybrid architecture of the) Paris Agreement is playing itself out, and the directions in which the Paris Agreement is being taken through national and regional litigation and advances in science, including through the Intergovernmental Panel on Climate Change framework.
Date of event: Wednesday 27 April 2022
Event Time: 3 - 4:30pm
Location: Online
---
Annual James Muiruri International Law Lecture 2022 with Professor Catherine Redgwell
Presentation title: What role for general principles in the international legal order?
About the speaker: 
Catherine Redgwell is Chichele Professor of Public International Law and fellow of All Souls College, and Co-Director of the Sustainable Oceans Programme of the Oxford Martin School.
Her research interests fall broadly within the public international field, including international energy law and international environmental law. She has co-authored two leading texts on international environmental law, Birnie, Boyle and Redgwell, International Law & the Environment (OUP, 4th edn 2021) and Bowman, Davies and Redgwell, Lyster's International Wildlife Law (CUP, 2nd edn, 2010). In the energy field she has published widely including as co-editor and contributing author on international energy law in Energy Law in Europe (OUP, 3rd edn, 2016). She is currently co-director of the Sustainable Oceans Programme funded by the Oxford Martin School (2016-) and by the Prince Albert II of Monaco Foundation (2018-). Catherine was invited to give a Special Course at the Hague Academy of International Law in Summer 2022.
Date of the event: Wednesday 11 May 2022
Event time: 4 - 6pm
Location: Hybrid: on-campus and online
On-campus: The Diamond, University of Sheffield
Online: Blackboard Collaborate
---
Previous events
ILA British Branch Regional Seminar Series
Annually, the International Law Association (British Branch) hosts a series of regional seminars which take place in Cardiff, Edinburgh, Oxford, London and Sheffield. These seminars are intended to broaden and sustain interest in private and public international law within the United Kingdom.
Our seminars are open to anyone interested in international law. If you are a student or academic from the University of Sheffield or another institution you are welcome to attend and take part.
The seminar series is co-ordinated by Dr Erika Hennequet and Dr Callum Musto.
10 November 2021 - Developing Countries and Compliance with International Arbitral Awards

Speaker: Dr. Affef Ben Mansour (international arbitrator and Visiting Professor, Université Paris Nanterre)

Date: Wednesday 10 November 2021

Time: 4:00pm–6:00pm (GMT)

Location: University of Sheffield, School of Law. Anyone unable to attend in person is welcome to participate virtually.

Summary: Given international arbitration is on the rise as a dispute settlement mechanism, Dr. Ben Mansour explores the difficulties developing countries face in complying with international arbitral awards.

You can view the recording of this presentation here.

17 November 2021 - Artificial intelligence: Can the prohibition on discrimination respond to a new social reality?

Speaker: Dr. Tetyana Krupiy (Tilburg University)

Date: Wednesday 17 November 2021

Time: 3:30pm–5:00pm (GMT)

Location: Online

Summary: Dr Krupiy's research investigates how international human rights law may uphold human dignity, equality and diversity in an era of technological innovation. 
---
Addressing Racism Today 
In this conversation with academics from Central European University (CEU) and the University of Sheffield, Professor Tendayi Achiume, the UN Special Rapporteur on contemporary forms of racism, will reflect on global racial injustice and inequality today and what needs to be done about it. The discussion will address such issues as:
contemporary racism against the backdrop of today's formidable and complex challenges including COVID-19 pandemic, the climate emergency, socio-economic inequality, migration flows and 'racial borders', and surveillance capitalism;
the impact of the global awakening to racism in the aftermath murder of George Floyd in May 2020 – upon governments, companies (especially in the technology sector), multilateral institutions (including UN bodies), and civil society organizations;
the role of UN experts in addressing human rights abuses around the world in the face of criticism and pressure.
School of Law Lecturer, Sejal Parmar, is co-hosting this event with Dr Mathias Möschel, Head of Department of Legal Studies at Central European University.
Wednesday 20 October 2021, 5pm (BST)
---
Careers in International Law, European Law and Global Justice
This two-part event brings together experts working in diverse areas of international law, European law, and global justice — in private practice, governments, international courts and tribunals, international organisations, NGOs, and academia. Our speakers will showcase their work and share their insights on building a successful career in these complex and rewarding fields.
Wednesday 21 April 2021, Wednesday 5 May 2021.
A world top-100 university
We're a world top-100 university renowned for the excellence, impact and distinctiveness of our research-led learning and teaching.