Donating materials to Special Collections
Our unique and distinctive collections have grown through many generous gifts from alumni, colleagues, academics, friends and members of the community.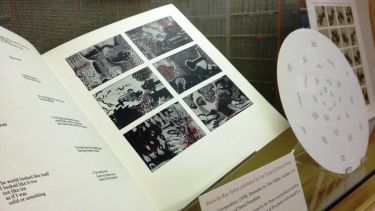 Contact us to make a donation
We are always seeking to enrich our resources for learning and research, and welcome enquiries from those interested in making a gift of materials or funding.
Email: lib-special@sheffield.ac.uk
Telephone: +44 114 222 7299
Please contact us so we may discuss the materials you would like to offer. As part of a careful review, we will consider the best placement for the material, alongside possible uses for our academic community.
Enriching our Special Collections and Archives
We continue to develop our collections and most recently we secured the donation of two significant collections:
The Champernowne Papers
These contain, amongst other material, letters to Irene Champernowne from the psychoanalyst Carl Jung, lecture notes taken by some of Jung's students, poems, and letters.
The significant archive, created by Irene Champernowne, came to us via Professor Brendan Stone, and the Champernowne Trust, a mental health and educational charity named after Irene, who founded the Trust in 1969.
Irene was a pioneering Jungian analyst and psychotherapist who recognised the importance of art in the process of therapy.
The Ruth and Ken Campbell Collection
A generous donation of exceptional artists' books made by British artist Ken Campbell in recognition of the high quality of our Private Presses Collection.
This is the largest collection of Campbell's works in the north of England.
Campbell is one of the most highly respected artists in the world whose books are all letterpress printed and assembled by hand.
In addition, the David Blunkett Archive was awarded a grant from the Archives Revealed programme, which is supported by The National Archives, The Pilgrim Trust, and the Wolfson Foundation, to fund a Project Archivist to continue work on Blunkett's extensive archive, which is proudly held by the University Library.
A world top-100 university
We're a world top-100 university renowned for the excellence, impact and distinctiveness of our research-led learning and teaching.