Our heritage collections represent the history of teaching and research at the University, reflecting many of the discoveries and advances made by our academics.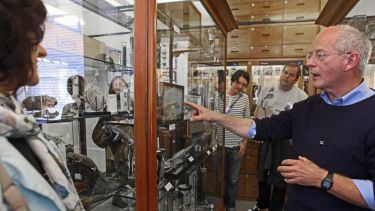 Discover the University's Heritage Collections
The Heritage Collections consist of thousands of objects that the University has acquired since its foundation in 1905.
Some of these are used on a daily basis for teaching and research. Others demonstrate the history and development of the University and its position as one of the UK's leading universities.
As many as possible are available to the public. The University's large collection of pictures in a variety of media are displayed in offices, coffee shops, libraries, study and work spaces all over the campus.
Discover some of the fascinating objects including oil paintings, watercolours, sculpture, art glass in the Turner Museum of Glass, medals, silver, scientific instruments and the Alfred Denny Museum of Zoology.
---
Alfred Denny Museum of Zoology
Displaying high-quality specimens from across the globe, the captivating facility has been in continuous use for teaching undergraduates for more than 100 years.
The museum was established in 1905 and named after the department's first professor of biology, Alfred Denny.
Many of the specimens have been in the museum since the early 1900s when collecting was at its peak.
Opening times
The museum is usually open on the first Saturday of each month for guided tours at 10 AM, 11 AM and 12 PM.
---
Turner Museum of Glass
Located in the Sir Robert Hadfield Building, Mappin Street, our fascinating Turner Glass Museum is home to one of Britain's most comprehensive collections of 19th and 20th-century glass, from drinking glasses to contemporary installations.
Opening times
Every weekday from 9 AM to 5 PM (except public holidays).
---
Contact us
Emily Green, University Heritage Collections Manager
Email: e.j.green@sheffield.ac.uk
Telephone: +44 114 222 1369
A world top-100 university
We're a world top-100 university renowned for the excellence, impact and distinctiveness of our research-led learning and teaching.