Discover rare books and archives in our collections.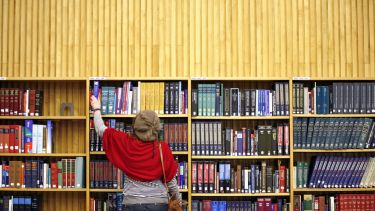 Small Press Poetry Collection
This collection contains material unavailable in any other British institution.
It focuses on British and American poetry and art of the avant-garde from the late 1950s onwards, including a complete collection of William Copley's S.M.S. portfolios.
Unique to the United Kingdom, the University of Sheffield Library holds complete collections of two significant Canadian small presses: Weed/Flower Press, founded and run by the prize-winning poet Nelson Ball; and Seripress, founded and run by the painter and poet (and wife of Nelson Ball), Barbara Caruso.
---
Private Presses Collection
The Private Presses Collection includes the largest single collections of their kind in the north of England of key British independent fine presses owned and operated by book artists such as Ron King (Circle Press); Ian Tyson (Tetrad Press, ed.it); Tom Phillips (Talfourd Press); and Ken Campbell.
It also includes important works by William Morris's Kelmscott Press; Golden Cockerell Press; the Nonesuch Press; the Chiswick Press; Petersburg Press; Editions Electo; and many others.
---
Hartlib Papers
This is a truly unique archive of more than 20,000 manuscript pages.
Samuel Hartlib was a seventeenth-century educationalist, natural philosopher, and polymath.
This unique collection of his papers comprises mostly correspondence from contemporary thinkers including Moravian educationalist and reformer Comenius; John Milton; Andrew Marvell; Robert Boyle; Oliver Cromwell; Christopher Wren; Rene Descartes; and Blaise Pascal.
---
Mid-twentieth century political collections
The University of Sheffield for over fifty years has been a centre of excellence in the study, teaching, and research of mid-twentieth century far-right politics, particularly Fascism.
Collections such as those of politician John Beckett, notable British fascists Howard Biggs, F. T. Cooper, William Joyce, and Robert Saunders, all provide insight into the rise of the far-right in Great Britain in the mid-twentieth century; and, in particular, insight into the British Union of Fascists.
---
Hines, Lipman, Rosenthal
A growing area of research here at Sheffield is twentieth-century British drama.
Included here are the Hines Papers, the Maureen Lipman Papers, and the Jack Rosenthal Drama Scripts Collection.
Barry Hines was born in the mining village of Hoyland Common (located between Sheffield and Barnsley).
Hines was Yorkshire Arts Fellow in Creative Writing here at the University in the 1970s and was awarded an honorary doctorate in 2010.
His papers include the manuscripts of his major works including A Kestrel for a Knave, the basis for the film Kes, directed by Ken Loach.
Jack Rosenthal's collection comprises typescripts covering forty years of writing drama for television.
---
The National Circus and Fairground Archive
One of the leading repositories in the world for material relating to all aspects of travelling popular entertainment.
The Archive holds 150,000 photographic images, 4,000 books and journals and over 20,000 items of ephemera including posters, handbills and programmes.
The collection holds items of original artwork, early film, audiovisual material and important family and business records.
Key aspects of the collections focus on circus, fairgrounds, world's fairs and exhibitions, magic, menageries, sideshows, variety, wild west, early cinema, boxing, performers, showmen, seaside entertainment and amusement parks.
It provides a wealth of primary and secondary resources to researchers and students with an interest in architecture, social sciences, history, art, family history, performance, popular entertainment and many other subject disciplines.
A world top-100 university
We're a world top-100 university renowned for the excellence, impact and distinctiveness of our research-led learning and teaching.