The Industrial Doctoral Centre (IDC) for Machining Science trains researchers with a focus on advanced machining of metals, alloys, and composites.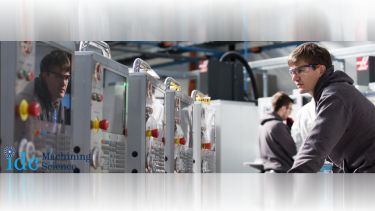 We are based both at the University of Sheffield and the Advanced Manufacturing Research Centre (AMRC) just outside of Sheffield. This allows us to work closely with groups at both, combining state-of-the-art research, and state-of-the-art machine technology.
Our scope is broad, ranging from the theoretical (modelling the dynamics of machining processes) to the practical (on-line monitoring of machining processes) and covers many engineering disciplines.
High-value manufacturing is crucial to engineering in the UK, with international competition driving development in novel manufacturing techniques and the production of complex, high-performance parts. EngD and PhD projects carried out as part of the IDC are directly applicable to industry and students work in both academic and industrial environments, helping to bridge the gap between the two.
The IDC follows a typical CDT format, with a year based at the University of Sheffield undertaking relevant lecture courses and mini-research projects. This provides an ideal introduction to the PhD or EngD, which takes place over the subsequent three years.
IDC Machining Science Student Conference
For students and researchers with machining, manufacturing and process monitoring backgrounds to present their work.