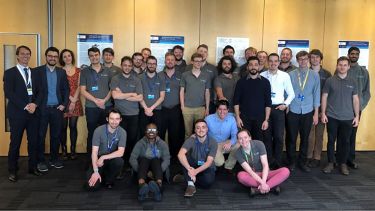 4th Annual Machining Science Student Conference
IDC Machining Conference - May 2nd 2019
The 4th IDC student conference, hosted at the AMRC in Rotherham, was a platform for PhD and EngD students with a machining, manufacturing and materials science background to present their research in a friendly and relaxed environment.
The conference provided an opportunity for delegates to share their research interests, expertise and exchange ideas with other researchers.
Keynote speakers
Professor Dr-Ing Thomas Bergs, Director of the Process Technology Division at the Fraunhofer Institute for Production
Erdem Ozturk, Senior Technical Fellow for the Machining Dynamics Group at the AMRC
In addition to our keynote speakers, guests attending this conference included AMRC staff members, visiting representatives from our sponsors and members of the IMCF.
IDC Machining Conference 2019 covered presentations and posters with the following themes:
Composite Machining
Robotic Machining & Automated Assembly
Machining Dynamics & Condition Monitoring
Non-Conventional Machining
Materials Science
Metrology
IDC Machining Science Student Conference
For students and researchers with machining, manufacturing and process monitoring backgrounds to present their work.
A world top-100 university
We're a world top-100 university renowned for the excellence, impact and distinctiveness of our research-led learning and teaching.