Jobs
Find out more about our current vacancies at Sheffield University Management School, and discover what it's like to work in the department and the University of Sheffield.
Are you interested in working for a top-ranked, Triple Crown accredited (AACSB, EQUIS, AMBA) Management School?
We seek applications from ambitious, highly motivated and talented individuals who will be keen to play a role in further enhancing the Management School's international reputation for excellence and delivering our mission for positive societal impact through world-class, innovative research and transformative education.
Sheffield University Management School is a vibrant, internationally diverse community of over 250 academic and professional services colleagues. As part of a Russell Group University, our world-class research and ambition is at the heart of our endeavours.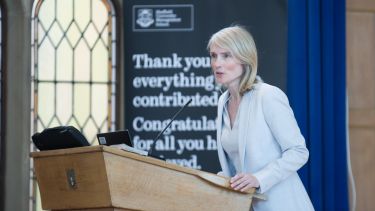 For academic and teaching staff, the University of Sheffield has an established Academic Career Pathway, which is built upon our shared understanding of what it means to be an academic in an ambitious, research intensive institution like the University of Sheffield. For researchers, you join one of our established research groups, working with our world leading academic researchers on projects that deliver global impact, and for professional services staff, you will join a community of 75 staff across seven teams, where the ethos is about supporting colleagues to gain knowledge and skills to progress a career in higher education administration and management.
Professor Rachael Finn, Dean of Sheffield University Management School
You can view testimonials from some of our staff on this page and our current vacancies are below.
Academic and teaching jobs
| Job title | Job reference | Closing date | Fixed term/open ended | FTE (if P/T) | Link |
| --- | --- | --- | --- | --- | --- |
| Lecturer/Senior Lecturer in Marketing | UOS037481 | 3 July 2023 | Open ended | N/A | Apply here |
| Lecturer/Senior Lecturer in Digital Marketing | UOS037482 | 3 July 2023 | Open ended | N/A | Apply here |
| Senior Lecturer in Sustainable Supply Chain Management | UOS037494 | 3 July 2023 | Open ended | N/A | Apply here |
| Lecturer/Senior Lecturer in Business Analytics | UOS037498 | 3 July 2023 | Open ended | N/A | Apply here |
| Lecturer/Senior Lecturer in Operations & Supply Chain Management | UOS037497 | 3 July 2023 | Open ended | N/A | Apply here |
| Lecturer/Senior Lecturer in Finance/Financial Management | UOS037480 | 3 July 2023 | Open ended | N/A | Apply here |
| Lecturer/Senior Lecturer in Accounting/Financial Accounting | UOS037495 | 3 July 2023 | Open ended | N/A | Apply here |
| Lecturer/Senior Lecturer in International Business | UOS037490 | 3 July 2023 | Open ended | N/A  | Apply here |
| Lecturer in Strategy | UOS037489 | 3 July 2023 | Open ended | N/A  | Apply here |
| Lecturer/Senior Lecturer in Organisation Studies | UOS037484 | 3 July 2023 | Open ended | N/A | Apply here |
Research jobs
| Job title | Job reference | Closing date | Fixed term/open ended | FTE (if P/T) |
| --- | --- | --- | --- | --- |
| There are currently no Research jobs available |   |   |   |   |
Professional Services jobs
| Job title | Job reference | Closing date | Fixed term/open ended | FTE (if P/T) | Link |
| --- | --- | --- | --- | --- | --- |
| Accreditation & Rankings Officer | UOS037410 | 3 July 2023 | Open ended | N/A | Apply here |