Why do Students Choose to Study at Sheffield?
With the warmth and friendliness of the locals, the amazing scenery and diversity of cultures, it is no wonder that nearly 60,000 students call the Steel City home. Sheffield has so much to offer to students and you will be a member of a vibrant community at the heart of a thriving city.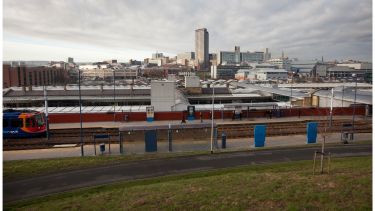 Off
Your World Class Academics

Your teaching will be delivered by experts of their fields, bringing their experienced careers to your learning. Our academics understand how to achieve a career in your area of study and bring this knowledge to all of your teaching hours. With 90% of our research having been recognised as world-leading or internationally excellent per REF 2021, we are proud to prioritise making a positive impact on working lives and promoting social responsibility.

Employability Hub

Many of our courses offer the opportunity to gain work experience or work with an external company to deliver you with hands-on experience. The Management School also boasts an Employability Hub, which helps to prepare students for finding employment during and after they graduate. The Hub gives you access to career support, job and placement vacancies and skills and employer workshops.

Our Rankings and Reputation 

Studying at Sheffield University Management School places you at the heart of a Triple Crown accredited management school, one among the global elite. This certifies the Management School as a teaching institution of outstanding quality and you'll be associated with that excellence throughout your future career. The University of Sheffield is a member of the prestigious Russell Group of universities, meaning that we are among the 24 leading UK universities. 

Carlo Vidal Miranda shared "Naturally, its Triple Crown accreditation was what first caught my attention. Being a world top 1% management school is not an easy feat. Moreover, the quality of academics and support offered at SUMS is second to none. Not only do you get the chance to take modules with highly accomplished academics in their fields, but also the staff at SUMS are people that embody the values of Sheffield and that are always willing to give you a hand. For me, this is priceless."

Value for Money

Being the cheapest place in the UK to be a student is more than an added bonus! (NatWest Student Living Index, 2021). You'll get more for your money in Sheffield than any other UK university city. That means there is more money in your pocket to do the things that really matter to you. 

The Number 1 Students Union in the UK

Our Students' Union has been ranked the best in the UK four times in the last 5 years. With over 330 societies and almost 60 sports clubs there is something for everyone's interests or enough to discover a new one. If you can't find a society that fits your unique interests, you are welcome to start one of your own! We have our own Management Society with its own sports teams that form the foundation of our community. 

Harry Blackwell, BA Business Management with Employment Experience shared "As a student in Sheffield, I was a member of the rugby club. This was where I met some of my closest friends and was trusted in leadership roles including first team rugby captain, which helped me develop greatly as a person." Read about how Harry's society involvement led him to start a six-figure business venture.

The City of Sheffield

With the Peak District right on the doorstep, you will never run out of green spaces and walking routes. Sheffield has been named the UK's greenest city (NatWest Group, 2021) and it's easy to see why! You can take a stroll in Crookes Valley Park, Endcliffe Park or Sheffield Botanical Gardens when you need a green fix. Did you know that more than 60% of Sheffield is green space? Sheffield gives you the perfect mixture of city life and nature, which you won't find anywhere else. Toby Darroch believes that "Sheffield is a city where the urban meets the Peak District. Personally, it is this unique geographical space that remains a huge contributor to my happiness and contentment in Sheffield."

Josephine Gibson shared "I chose to carry out my degree at Sheffield because I liked the city. Sheffield is a very green city, it has wonderful parks, loads of independent shops and cafes and the peak district is on the doorstep. I liked the community aspect that the halls provided in the first year accommodation. I also liked the friendly and inclusive feel of the student union and all of the different societies that you could get involved in. As well as the study spaces and libraries across the campus."

Your Accommodation

University accommodation is well situated to quickly reach the campus and the city centre, so you can easily grab a coffee or a bite to eat in town after your teaching. Sheffield is also perfectly placed to explore other cities in the UK, as well as for international travel with Manchester Airport close by. With two universities in the city centre, you will find a vibrant community of young people with similar interests to yourself. 

Entertainment

Sheffield has so much to offer in terms of entertainment. Whether you are looking for sport, live music or films and theatre, there is something for everyone. Chloe Low describes it as "The bustling city of Sheffield. Some shops are still open after 6PM and there is a variety of entertainment to choose from that ranges from movie theatres to crazy golf. There is also an abundance of great, aesthetic cafes. So, if you're a coffee and picture-taking lover like me, Sheffield is the right place for you."

There are several renowned events venues in Sheffield, including The Leadmill and O2 Academy attracting fantastic artists every year, meaning there is ample opportunity to see live music, comedy and much more. Sheffield is home to the annual Tramlines festival that has been running since 2009 and featured acts including Craig David, The Streets and Noel Gallagher's High Flying Birds. 

Sheffield has four cinemas in the city centre alone with several of these cinemas offering discounted student tickets and memberships, helping you to see more of what you love for less. The city boasts three theatres, with The Crucible celebrating its 50th anniversary in 2022. The Crucible also hosts the World Snooker Championship every year. 

Live Sport

With two historic football clubs in the city, Sheffield United and Sheffield Wednesday, there is plenty of choice for catching the big game. 

Jonathan Wright, BA International Business Management with Study Abroad alumnus told us "I highly recommend getting a season ticket if you're studying at Sheffield!"

I was very lucky to be a Sheffield United season ticket holder while studying there (they offer a great student discount) and Sheffield United got promoted to the premier league during my final year, which meant every other week I was attending Premier League matches and surrounded by the best atmosphere in the country. I highly recommend getting a season ticket if you're studying at Sheffield!" 

You can even visit the world's first football club, Sheffield FC! The city is also home to the successful ice hockey side, The Sheffield Steelers at the Utilita Arena. 
A global reputation
Sheffield is a research university with a global reputation for excellence. We're a member of the Russell Group: one of the 24 leading UK universities for research and teaching.