Senior Leader Apprenticeship
This NHS employer supported programme is designed for individuals who plan to develop their senior management and leadership career within the NHS.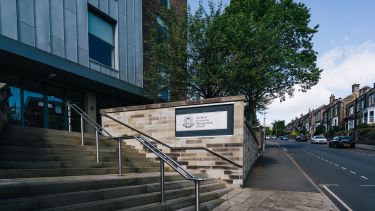 The Senior Leader Apprenticeship is aimed at aspiring senior leaders and combines workplace development with university-based learning, allowing apprentices to develop strategic leadership skills and knowledge to take the next steps in their career. 
The Apprenticeship supports the ongoing development of knowledge, skills and behaviours required by NHS employers from its senior leaders regardless of professional background. Alongside workplace learning opportunities and mentoring support the programme includes a participation in a tailored University of Sheffield Postgraduate Diploma with the option to progress to a Masters award in Management and Strategic Leadership.  This is delivered in a modular format to enable apprentices to balance workplace priorities with study.  Assignments are designed to support the apprentice apply theory and the latest research to their practice at work.
The academic elements of the Senior Leader Apprenticeship are taught within the prestigious triple crown accredited Sheffield University Management School. Sheffield University Management School is part of the University of Sheffield, a Russell Group university that ranks among the world's top 100 (QS World University Rankings 2022). 
The modules you will take are:
Developing Personal and Professional Practice 1
Developing Strategy and People
Leadership and Teamworking
Governance, Finance and Strategic Risk
Developing Personal and Professional Practice 2
Driving Change and Continuous Improvement
Enterprise, Innovation and Business Inquiry
Starting With The End In Mind I and II (Apprenticeship Elements)
The Senior Leader Apprenticeship will begin in January 2023 and is usually delivered over 29 months including the end-point assessment.  At the core of the programme is a supported learning and development process in the context of your existing job role.  Employer support for the required 6 hours per week 'off-the job' time is integral to success on this programme as is the help of workplace and academic mentors.
As part of the time allocation for the programme, apprentices will be timetabled to attend 26 days teaching during the course, 13 of which are before July 2023. 
Eligible candidates will need to meet the following entry requirements:
A role where the skills and behaviours listed on the apprenticeship standard can be evidenced 
A valid and eligible residency status
Maths and English at level 2, e.g. GCSE/O level grade C or above or equivalent (Please note: this excludes ESOL qualifications and evidence must be provided prior to formal employer-supported application)
Formal employer support for 6 hours off the job learning per week.
You will be invited to attend an interview after your initial expression of interest. If you are unable to attend the interview in person we will arrange with you for this to be online.
The programme is accredited by the Chartered Management Institute (CMI).
On successful completion of all elements of the Senior Leader Apprenticeship, you will be awarded:
The Senior Leader Apprenticeship Award
CMI Certificate in Strategic Management and Leadership (L7)
Postgraduate Diploma in Management and Strategic Leadership 
CMI Chartered Manager status (subject to verification)
There may be the option to undertake a top-up programme to achieve a MSc in Management and Strategic Leadership degree. This will sit outside of apprenticeship funding and will incur an additional cost of which is to be confirmed.
If you are interested in this programme then we would advise you, if you haven't already, to speak with your Apprenticeship Lead and they will be able to offer support and guidance about the application process and check your eligibility for the programme.
If you would like to find out more information about what the programme entails, we are offering the following information events here at the University of Sheffield:
24 October 2022, 9am - 11am
27 October 2022, 12 noon - 2pm
8 November 2022, 9am - 11am
If you are unable to attend one of these events, you can book an online meeting with the Programme Director who would be happy to answer any questions you might have.
Register to attend an event or book an online meeting
If you have any further questions, please contact us on executiveeducation@sheffield.ac.uk.
A world-class university – a unique student experience
Sheffield is a research university with a global reputation for excellence. We're a member of the Russell Group: one of the 24 leading UK universities for research and teaching.