We know that undertaking further study is part of a larger plan and we provide you with comprehensive careers support throughout your programme. There are two specialist careers advisers in the school and you can also access further assistance from the University's Careers Service.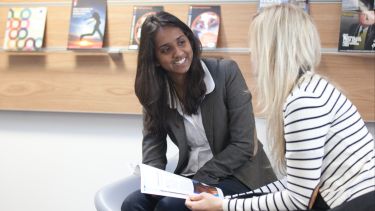 Our Employability Hub is an excellent resource for our students. Unique to the school, this dedicated careers space is a key interface between you and the business world. Our MBA students an access employability support, skills development and opportunities in companies and with professional bodies.
Focus: Careers and Professional Development
To make sure you realise your career ambitions, students' studies will be complemented by a specific Careers and Professional Development programme. This unique programme combines careers planning and guidance with life coaching and soft skills development such as improving your interview technique and presentation skills, and optimising your CV. It will be delivered by the school's Employability Hub and draw on external expertise, where relevant.
The Careers and Professional Development programme is a well-established feature of the course, providing seminars and skills development events to develop your personal and professional effectiveness. The School also subscribes to Top MBA, a senior management network and website which enables you to put your CV in front of a range of top employers.
Throughout your time at the Management School, and for up-to three years after you graduate, you can also access help with:
Career planning and developing your employability profile
Identifying career options – matching your qualifications to opportunities in work and further study
Finding jobs and securing work experience
Writing CVs and applications, plus advice on how to succeed at interviews
Making the most of the many careers events that take place both on campus and beyond
Recruitment fairs and employer presentations that give you the chance to meet recruiters face-to-face
Meet employers
The international reputation of both the University of Sheffield and Management School makes us an attractive recruiting ground for many UK and international employers. We can help put you in touch with potential employers through business networking events, employer presentations and careers fairs, plus employer-led workshops to help you develop your employability skills.
Insight: Working within a business
Student Perspective: Deepak Arunachalam, MBA student
My experience of working with Recovery Enterprises, which is a social enterprise, has given me an immense knowledge in the field of market research. I started working with them as a consultant to do a comprehensive consumer market segmentation and competitor analysis, supporting their proposed business venture. Even though the project was demanding I thoroughly enjoyed doing it. My time at Recovery Enterprises was an excellent opportunity and a thought-provoking experience that has enhanced my management and interpersonal skills.
Further to this, the support provided by both Recovery Enterprises and the Employability Hub helped me to achieve what I was aiming for. Overall, working with a company was a wonderful and enriching experience, which substantially increased my business skills.
Company Perspective: Sarah Proctor, Development Manager at Recovery Enterprises
Deepak joined Recovery Enterprises to research and develop a complex marketing project. There were many target markets to consider and a limited amount of time, but directors were delighted with the results he achieved. The student represented our company in a positive and professional manner and his willingness to go above and beyond was testament to Deepak's flexible approach – a skill which will be invaluable when building relationships with future clients.
Web-based resources
We advertise all our careers events on the Management Gateway. We also advise students to check the Careers Service website on a regular basis for all types of information and advice.
A world-class university – a unique student experience
Sheffield is a research university with a global reputation for excellence. We're a member of the Russell Group: one of the 24 leading UK universities for research and teaching.