The NSS is your opportunity as a final year undergraduate to say what you think about your course. It allows you to say both what you liked and what you think can be improved about your programme. All your responses will remain strictly anonymous. We use feedback from the NSS to improve our programmes and everything that we do for our students.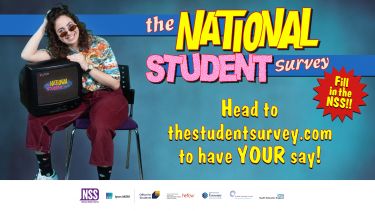 Complete the survey
It only takes five minutes and can make a big different to your University.
---
What is the NSS?
The National Student Survey (NSS) is a UK-wide survey aimed at final-year undergraduates, which gathers opinions from students about their experiences of their programmes of study. The survey is commissioned by the Office for Students on behalf of the UK funding and regulatory bodies. It is an influential source of public information about higher education and its purpose is to help inform the choices of prospective students and provide data to support institutions in enhancing the student experience.
Fill in the NSS to help improve student life
Your feedback is valuable as it helps to make improvements to our services. Here are some examples of what we've done in response to your feedback from last year's NSS and the undergraduate staff student forum.
You said, we did
Enhanced the UG staff student forums to allow your voice to be heard even more.
We have worked hard to promote the opportunities associated with becoming a student rep and ensured that all programmes and levels are represented.The meetings have been highly interactive with good attendance from students who have raised a number of issues (and successes) that we have been able to look into and address.
As part of the new process we now meet 4 times a year, publish the minutes on your level site and also outline how we have responded to the issues raised. This provides transparency to how we respond to your feedback and shows how valuable your input is. We have also utilised the Tricidor system to capture your comments and will make it easier for you to contact your reps by establishing dedicated email addresses monitored only by reps.
Please look out for your reps as they introduce themselves during lectures and other events!

Added an additional Bloomberg terminal in the trading room.
Given the popularity of the Bloomberg trading room and the number of students now studying investment related modules, we have invested in a further Bloomberg terminal within the trading room. There will shortly be 16 terminals available in the trading room which can be booked remotely.  For those who are not aware each PC now also has the Eikon system on as well…bonus!

Provided additional support and guidance on employability within your degree programme.
Our focus on enhancing your employability has been a key issue during the last 12 months and the development of the Futures First Programme in level 1 is a major part of our strategy. The revised module (MGT139) is focused on helping you put in place a career plan and strategies to gain the skills you need to get that dream job. The appointment of Futures First Ambassadors has provided students access to final year students who have undertaken a placement and can offer support and mentoring. The ambassadors have been integral in helping us develop our employability agenda and map out skills you need when out on placement.

Reduced the amount of assessments at level one.
Starting university is certainly demanding and given your feedback we have revised and reduced the assessment being used at level one. This gives students more time to settle in and to focus on learning rather than doing assessments. Key examples include:
MGT120 changed the assessment from an exam to coursework to better address module learning outcomes, which has been supported by a revised tutorial programme

MGT134 reduction and change in assessment

MGT136 introduction of peer assessment on group work

MGT137/8 reduction and change of assessment