Futures First Available at Sheffield University Management School!
Madeline Hollis shares her experience of Futures First and how they helped her to secure a placement last year.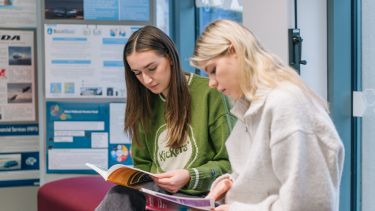 Futures First is a huge part of the Management Schools efforts to try and help students to secure a Placement year or a summer internship during their studies.
During 2020 and 2021 when I was applying and eventually being offered a placement year, I would have been lost without the help from the Futures First resources at SUMS! The main aim of Futures First initiatives is improving employability, therefore the Employability Hub is at the heart of the management school making it easily accessible for any management student to visit. 
The Employability Hub
A space for students to gain careers support and coaching on jobs, placements, internships and more such as interview prepping. You can pop into the hub at any time to find someone to simply have a chat with, whether that be for placement preparation or general career advice on what is best for you.
Careers Service
Here you can book for a one-to-one advice session either face to face or virtual depending on your preferences! They will enable you to narrow down what you want out of your career, as well as providing great advice. Alongside this, you can gain help with CV's, cover letters and again interview techniques. This allows you to have confidence when applying for internships and placements during university. 
Future First Ambassadors
If you are in your 1st or 2nd year of University, or currently on placement, I am sure you have had talks and lectures from some of our Futures First Ambassadors. These are final year students who have recently returned from a placement year, and they are here to help you!
You can get in contact with them through this email: futuresfirstambassadors@sheffield.ac.uk
They will answer any questions regarding placements, tell you about their stories from the fantastic companies they've worked for, and you may find it easier to speak to someone who has just gone through the process and have them as your very own mentor! 
Futures first is a great addition to the management school and is highly recommended for anyone wanting help with placement and internship applications!
A world top-100 university
We're a world top-100 university renowned for the excellence, impact and distinctiveness of our research-led learning and teaching.