Dr Alexandra Woodall
Programme Director for Creative and Cultural Industries Management
Lecturer in Arts Management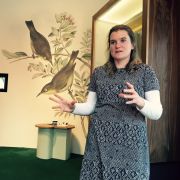 Profile

Alex Woodall is a Lecturer in Arts Management at Sheffield University Management School, where she teaches on the MSc in Creative and Cultural Industries. Her research is derived from extensive professional practice working in museums and art galleries, and as well as object-focussed research, she has a particular interest in how these creative and cultural industries function to support wellbeing.

For 15 years, she managed public programmes, exhibitions, learning and interpretation projects for museum and galleries, including at Museums Sheffield, Manchester Art Gallery, the Royal Armouries in Leeds, Kettle's Yard at the University of Cambridge and the Sainsbury Centre at the University of East Anglia. She has also worked as a freelance consultant. Her work is interdisciplinary, and is often theoretically framed with concepts from philosophy, theology, anthropology and education. Alex is a professional reviewer and mentor for the Museums Association, is part of the Women Cultural Leaders Network, and is on the editorial board for 'Museum & Society'.
Research interests

Primarily interested in how people engage with material culture in museums (the encounter between a person and a thing), not least through developing collaborative creative projects with artists, Alex is also interested in how the museum workforce is supported to flourish. To that end, she initiated and is currently working with the UK Museums Association to undertake the first ever piece of research on bullying in the museums sector. In addition, she is involved in object-based research in heritage tourism sites in India, particularly in the City Palace Museum in Jaipur and in Buddhist monasteries in Ladakh, where she has collaborated with Professor Sandra Dudley (University of Leicester), Professor Manvi Seth (National Museum Institute, New Delhi) and an international team of researchers.

Alex's research methods are qualitative, often including reflexive interview, participant observation and visual methods. Her PhD is from the School of Museum Studies at the University of Leicester and is entitled 'Sensory Engagements with Objects in Arts Galleries: Material Interpretation and Theological Metaphor'.
Publications

Journal articles

Chapters
Research group

Behavioural Research for Inclusivity, Sustainability and Technological Transformation (BRISTT)

Affiliated member of Organization Studies

Marketing and Creative & Cultural Industries
Teaching interests

Alex has a creative approach to teaching, particularly shown through her imaginative approaches to object-based learning in museums and heritage sites as well as in university settings. She is particularly interested in co-production and working with artists, as well as in sensory and emotional learning, not least through experiential 'hands on' encounters with things.

She has taught across disciplines including Museum Studies, Education and Art History, and has extensive experience of teaching at all levels (including beyond the university, from early years to older adults). Her approach is friendly, and is often informal and enquiry-based. She is interested in adapting 'Philosophy for Children' (P4C) style approaches to teaching and received a prestigious Leicester Award from the University of Leicester for her creative approaches to object-based teaching there. She has a PGCE from the University of Cambridge.
Teaching activities

Alex is module leader for 'Cultural Marketing', and teaches on 'Managing Museums and Cultural Heritage Sites' and 'Managing Festivals, Events and Creative Programmes'.